At a Glance
Expert's Rating
Pros
Good speakers for an ultrabook
Good GPU performance
Cons
Mediocre battery life
Unimpressive overall performance
Our Verdict
AMD-powered ultraportable laptop is as thin and light as an Ultrabook, but can't match the performance of its Intel-based rivals.
Best Prices Today: Samsung Series 5 535 13.3" Notebook
It's only 0.7 inch thick, and it weighs just 3.35 pounds (3.8 pounds with power block), but the 13.3-inch Samsung Series 5 NP535U3C doesn't qualify as an Ultrabook. The reason? "Ultrabook" is a trademark belonging to Intel–and the Series 5 NP535U3C doesn't use an Intel processor. Instead, it has a 2.1GHz dual-core AMD Fusion A6-4455M processor. The crucial question: Can this ultrathin, AMD-based ultraportable laptop hold its own in an Ultrabook world? We tested it to find out.
Our review model, priced at $699 (as of August 6, 2012) as configured, sports an AMD Fusion A6-4455M processor, 4GB of RAM, a 500GB hard drive, and a 13.3-inch screen. It also offers 802.11a/b/g/n Wi-Fi, Bluetooth 4.0, and a built-in 1.3MP webcam. The Series 5 runs a 64-bit version of Windows 7 Home Premium.
Performance
Diehard AMD fans will be saddened to learn that the Series 5 NP535U3C doesn't quite match the performance of its Ultrabook counterparts. In PCWorld's WorldBench 7 benchmark tests, the Series 5 earned a rather puny 62 out of 100, meaning that it's speed was only 62 percent of our testing model's. The average WorldBench 7 score for the most recent three Ultrabooks we tested was 127.7.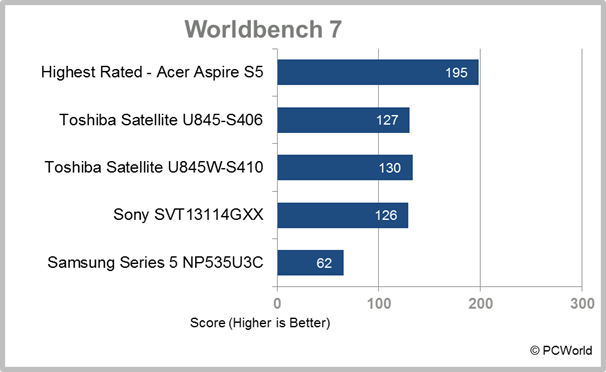 To be fair, the WorldBench 7 tests take more than just processor speed into account, so components other than the AMD processor may share responsibility for the Series 5's poor showing. For instance, a major factor in WorldBench 7 tests is storage and startup speed; and one Ultrabook requirement is speedy boot-up times, which many Ultrabooks accomplish by using a small SSD caching drive plus Intel's Smart Response technology. This Series 5 doesn't have an SSD cache drive, so its startup time is comparatively slow (31.4 seconds versus 12.3 seconds for the much speedier Acer Aspire S5).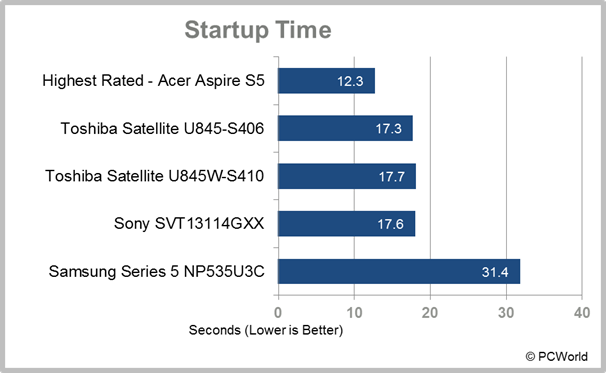 But some WorldBench 7 tests stress processor speed. In our Office Productivity tests, for example, the Series 5 managed a mark of just 950, while the Aspire S5 earned a score of 4039. And in our Web Performance tests, the Series 5 sustained 6.8 frames per second versus the Aspire S5's 12.8.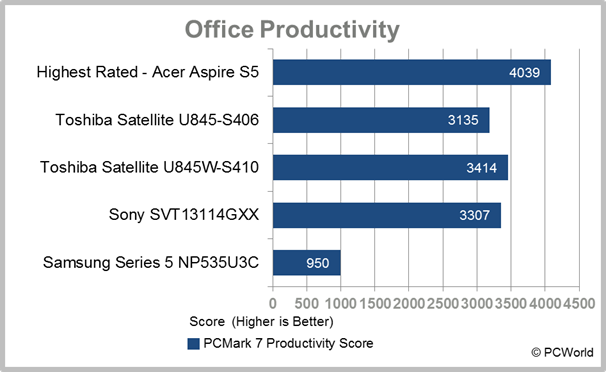 The Samsung Series 5's graphics performance was somewhat stronger, thanks to the integrated AMD Radeon-class GPU. In our Crysis 2 graphics tests, the Series 5 managed frame rates of between 11.3 (at high quality settings and 1366-by-768-pixel resolution) and 24.5 (at low quality settings and 800-by-600-pixel resolution) frames per second. This frame rate was slightly higher than the average for the last three Ultrabooks we've tested. All of the laptops we're comparing, including the Series 5, rely on integrated HD graphics.
The Series 5 has a disappointingly short battery life. In our tests, we managed to eking out a scant 5 hours, 2 minutes in our tests; all three of the most recent Ultrabooks we've tested held out for more than 6 hours.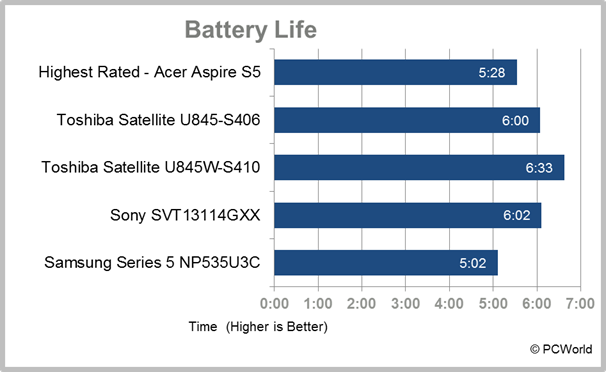 Design: Chassis, Keyboard, Trackpad
The 13.3-inch Series 5 model that we evaluated looks a lot the rest of Samsung's Series 5 lineup. It has a solid, slate-gray aluminum cover with a small, understated Samsung logo. The muted gray aluminum of the interior is just a few shades darker than that of the Apple MacBook Air. The minimalist keyboard deck contains a small power button in the upper right corner, speakers just above the keyboard, and tiny blue lights at the front for Wi-Fi, power, and battery.
The keyboard and trackpad are comfortable to use, but they have some of the same drawbacks as those on the Samsung Series 5 Ultra, which I reviewed in March. The keyboard's widely spaced, island-style matte keys are very quiet but offer weak feedback. The trackpad is smooth and accurate, and it supports multitouch gestures such as a surprisingly responsive pinch to zoom. The two discrete mouse buttons below the trackpad, however, feel flimsy and cheap.
Port selection on the Series 5 is adequate for an ultraportable laptop. On the left side are a gigabit ethernet port (which pops out, to avoid disrupting the machine's slim profile), a USB3.0 port, an HDMI-out port, a combination headphone/microphone jack, and a mini-DisplayPort. On the right side are two USB 2.0 ports and a four-in-one card reader.
Screen and Speakers
The Series 5's 13.3-inch matte LED-backlit display has a native resolution of 1366 by 768 pixels. The screen features SuperBright Technology, which in our assessments appeared to live up to its name: The screen was quite bright, making it is usable even in very harsh lighting. Colors seemed accurate for the most part, though whites occasionally took on a bluish tint; text and images looked crisp. Off-axis viewing angles, especially the vertical angles, were poor, however, and viewing the screen from a less-than-optimum position yielded darker, contrasty images.
High-definition video looked reasonably good on the Series 5. Not everything was entirely smooth–especially in higher-definition streaming clips–but artifacting in video clips seemed to be limited to darker, fast-moving scenes, and choppiness was minimal.
The Series 5's speakers, though not very loud, produced very full sound, considering the size of the system.
The Bottom Line
You shouldn't write off the Samsung Series 5 NP535U3C just because it has an AMD processor instead of an Intel processor. Though Intel's Ultrabooks may outperform the AMD Series 5 overall, the Series 5's integrated Radeon HD 7500G graphics are slightly more impressive than Intel's HD 4000 integrated graphics. In addition, theAMD Series 5 is $100 cheaper than its Intel counterpart, and it has excellent speakers for the category.
So if you're looking for an ultraportable multimedia machine–and you're not too picky about startup time or branding–the Series 5 deserves a look.