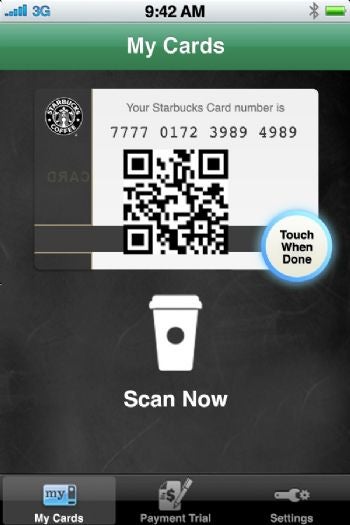 Starbucks has "signed up" with mobile payments processor Square, the two companies announced Tuesday evening in a bid to make buying a Venti Latte as easy as flashing your smartphone at the store's barista. The deal will also help significantly reduce the fees Starbucks pays for credit card processing to banks.
This fall, Starbucks will begin processing all debit and credit card transactions made in U.S. coffeehouses with Square. Starbucks will also be investing $25 million in the startup, and Starbucks' CEO Howard Schultz will join Square's Board of Directors.
Square is a mobile payments processor that, among other services, allows vendors to use their mobile devices as credit card readers. According to Square's website, the company charges a competitive 2.75 percent per credit card swipe for Visa, MasterCard, Discover, and AmEx cards. Square also has a "Pay with Square" app for Android and iOS users. This app lets users pay participating businesses from their mobile device without ever handing over a physical card (the user's identity is verified by name and photo).
This partnership is no surprise. Not only will the partnership lower Starbucks' payment processing fees, but the company has already toyed with mobile payment processing systems in its coffeehouses. In January 2011, Starbucks launched its own mobile payment system: a pay-by-smartphone iOS and BlackBerry app that let users load up a virtual Starbucks gift card and pay with their device.
"As the largest retail mobile payment platform in the U.S., we're excited and proud to accept payments with Square," Schultz said in a press release. "The evolving social and digital media platforms and highly innovative and relevant payment capabilities are causing seismic changes in consumer behavior and creating equally disruptive opportunities for business. Both Starbucks and Square take a similar approach when building products and running our businesses, and together we can bring the best possible payment experience to Starbucks customers."
On Square's side, the partnership is a great deal as well–this new financing will hopefully give the fledgling payments company enough resources to compete with companies such as eBay and Intuit, both of which have their own mobile payment processors.
Mobile payment technology is different from the other big cashless contender–NFC, or Near Field Communication, technology. Both technologies use customers' mobile devices as virtual "wallets," but NFC is a short-range wireless technology that requires users to tap their devices against an NFC-enabled point-of-service device in the store. Square, and similar mobile payment processors, work more like paying for something over the Internet–users have their information pre-loaded in their mobile device and can essentially "order online," and never have to take their device out of their pocket when they check out.