At a Glance
Expert's Rating
Cons
Hard to figure out at first
Our Verdict
Powerful file manager System Navigator features a bit of a learning curve.
If you want to move a file from folder A to folder B, or delete a few files here and there, then Windows Explorer has your basic needs covered. But if you want to do a little bit more with your files—share them on your favorite social networks, work with archived files, or secure your files—you need a file manager with a little more oomph. You need a file manager like ExeOne's System Navigator ($35, thirty-day free trial).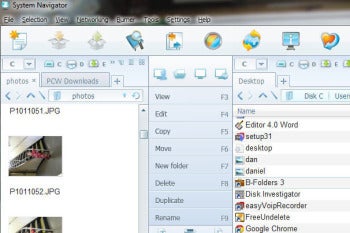 After you install System Navigator, it replaces Microsoft's Windows Explorer as your navigational system for your PC. The change does take some getting used to, as System Navigator replaces Windows' familiar folders with a more intricate interface that's full of unfamiliar icons and plenty of text. The result can be intimidating at first, as it1s hard to know where to begin. Add to that the fact that ExeOne's help is limited, and it's easy to feel lost in System Navigator.
If you're prepared to learn about System Navigator's many options through trial and error, you'll soon be impressed by just how much this utility has to offer. Its dual-window interface lets you quickly move and copy files, without the incessant dragging and dropping that Windows Explorer requires. If you want to preview the file in question, System Navigator lets you do that, too. You can even perform limited photo editing from within the preview, a nice touch if you only need to make a quick fix.
System Navigator includes plenty of advanced features, too. You can upload photos directly to social networks like Facebook and Flickr; you can create and unpack archived folders; and you can share files using the built-in FTP and SFTP client. If you want to burn files to a disc, System Navigator offers direct access to your computer's burner, and if you want to search for files, this utility offers an excellent built-in searching tool.
Getting used to System Navigator takes a bit of time, and learning your way around this full-featured file manager takes a bit of effort. But if you want to have complete control over your computer and its many files, you'll find that time and effort well spent.
—Liane Cassavoy