At a Glance
Expert's Rating
Pros
Lets you use Windows Explorer to manage iOS device
Cons
Free demo version is limited
Our Verdict
A complete solution for managing and organizing the contents of your iOS device, iExplorer works well.
iTunes is a good way to manage your iOS mobile devices, but it's not without its limitations. Chief among those limits is how iTunes operates in its own closed environment, behind closed doors. Enter Macroplant's iExplorer 3 ($35, free feature-limited demo). This software works both with and instead of iTunes, offering you more freedom in how you manage the contents of your iPhone, iPod, or iPad from your PC.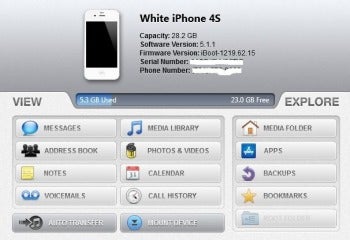 To use iExplorer, you simply download it and connect your iOS device to your PC. It reads the contents of your device, and presents the information to you in a neatly organized dashboard. Much like iTunes, iExplorer shows you information about your iPhone or iPad, such as its software version, serial number, and capacity.. You also can browse its apps, photos, music, and videos, just as you can with iTunes. But iExplorer lets you do even more, including browsing its messages, notes, contacts, voicemails, bookmarks, calendar, call history, and so on.
And iExplorer lets you do even more than browse the contents of the device; it also lets you transfer it to your phone. (iExplorer is available in a free, but limited version, which restricts how much information you can transfer from your device to your computer at a time. Paying $35 for a registered version removes those limits.) You can use the Auto Transfer feature to send selected content (including individual files, multiple files, playlists, and more) to iTunes, or you can use the Transfer feature to move content from the iOS device to folders on the computer, using the Windows Explorer interface. You also can use iExplorer to mount a directory from your iOS device as a folder in Windows Explorer, which makes it even easier to liberate iTunes-bought content from the iTunes universe.
You also can use iExplorer to save information from your phone, including text messages, call logs, and more. You can export the information to .csv or .txt file, and you can create backups of specific information or you entire phone.
In a lot of ways, iExplorer is what iTunes should be. But if you're comfortable with iTunes, don't worry; you don't have to abandon it to use iExplorer. Both programs together will offer you a complete way to manage your iOS device.
—Liane Cassavoy