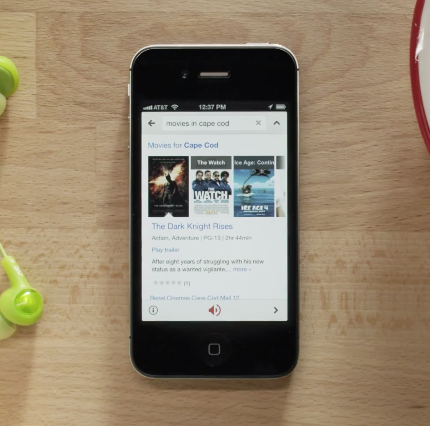 Google is set to bring its own competitor for Apple's Siri voice assistant to the iOS platform. The updated voice-enabled search feature works a lot like Siri. It will debut as an enhancement in the Google Search app for iPhones and iPads, meaning it will be available to more users than Siri.
Voice-assisted Google searches are not a new thing. The option has been available for a couple of years within the Google Search app for iOS, but it wasn't a match to Apple's voice assistant, Siri, which launched with the iPhone 4S and uses natural language to talk to you. Now, this is exactly how Google's rival product will work, too.
Google announced the feature in a blog post, saying that the revamped Voice Search will give you a spoken response when it can supply a direct answer. It will also behave like Siri when asked about movies in theaters, displaying a list of the latest flicks in cinemas near you. A promotional video for the feature on the iPhone also showcases scenarios of weather enquiries, image search ("show me pictures of…") or directions to a certain location. Google said this also works for for everything from celebrity factoids to the height of mountain peaks.
Pros and Cons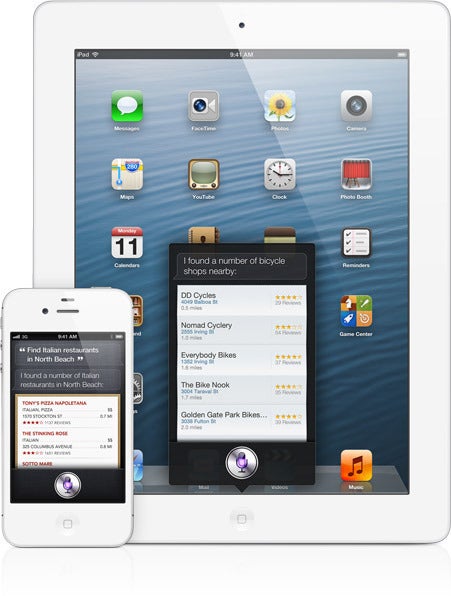 The answers for the voice search feature are pulled from Google's Knowledge Graph, a database with mapped connections between facts, concepts and ideas. Just like Siri, the feature needs an Internet connection to work, as your voice requests are processed remotely on Google's servers. Google's app though has an advantage over Siri — it will work on all iOS 4.2 and above devices, while Siri is currently limited to the iPhone 4S, with third-generation iPad support from iOS 6.
The improved Google voice search has been available on Android devices for a few weeks now, with the introduction of Android 4.1 Jelly Bean. But as my colleague JR Raphael remarks, the new Google Voice Search is even more limited on Android than Siri is on iOS, as it is exclusive to the Jelly Bean OS, currently installed on only 0.8 percent of Android devices.
Even though the improved Google voice search is not yet available on the iPhone, Laptop Mag has put it to the test (via Android 4.1) against Siri and S Voice (for Samsung Galaxy phones). The tests found that although Google Voice Search has nifty abilities, like returning sports scores and images, Siri is better at other tasks like making calendar entries and writing messages, which gives it the edge.
Follow Daniel Ionescu and Today @ PCWorld on Twitter