At a Glance
Expert's Rating
Pros
Superb IPS Full HD display
Extremely thin and light given its performance
Cons
Only two USB ports, though they're 3.0 capable
Keyboard is a bit slippery
Our Verdict
The new Zenbook offers a superb IPS display and solid performance in an ultralight, slick package.
Best Prices Today: Zenbook Prime UX31A
The new Asus Zenbook UX31A looks like the old UX31E, with a brushed, bronze-tinted, solid aluminum shell that looks slightly dangerous and angular. The weight remains the same, at 3 pounds and an ounce. But our test model arrived with a gorgeous, 1080p IPS (in-plane switching) display and an Ivy Bridge processor, boosting both performance and display quality. Price (as of 08/09/2012) is about $1449.
Points of Improvement
In addition to updating its UX31 Zenbook line with Ivy Bridge CPUs, Asus is trying to bring consistency to its touchpad pointing experience. PCWorld's review of the earlier Zenbook UX31E was mostly favorable, but the review said that the touchpad wasn't optimal. One issue that the company itself noted was that it sourced touchpads from two different vendors, and it was a crapshoot as to which one you'd get when you bought a Zenbook.
The UX31A rectifies that, using the same brand and model of touchpad in all systems. Drivers have been tuned a bit as well, and the overall touchpad experience is better. Palm detection has improved, though the cursor still has a slight tendency to overshoot when you use your finger to move it. Multitouch gestures and tap-to-click no longer have excessive lag, either.
You can still get the Zenbook with a 1600 by 900 pixel display, but it's worth spending a few dollars more for the 1920 by 1080 pixel display, based on IPS technology. The one downside: all those pixels crammed into a 13.3-inch display may make you want to adjust the display's scaling for fonts to improve readability. The 1080p display includes an antiglare filter, a welcome standout in a sea of glossy, too-reflective panels.
Sound quality through the built-in speakers, codeveloped by Bang & Olufsen, is mostly accurate, though some acoustic classical material sounded a touch bright. As with most systems with tiny speakers, the Zenbook lacks any real bass content—you'll want external speakers or headphones if you're looking for more boom in your audio.
Performance
Our Zenbook review unit included the speedy Core i7-3517u CPU, supporting four software threads with two cores, and 4MB of L3 cache. As with most Ultrabooks, the system includes 4GB of RAM, some of which needs to be allocated to the integrated Intel HD 4000 graphics processor.
Overall performance is on a par with the similar Acer Aspire S5, posting an 82 on PCWorld's combined assessment.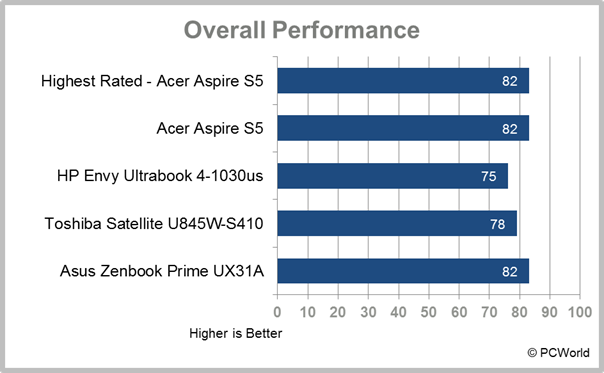 The Acer still ekes out a higher Worldbench 7 score, posting a startlingly high 195, compared with the Zenbook's 150.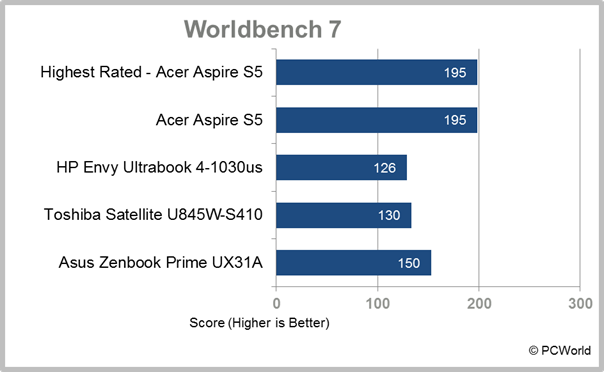 The Asus takes 20.1 seconds to start up from a cold boot, slightly slower than the average of 16.3 seconds for recently reviewed Ultrabooks, despite the built-in, 256GB solid-state drive. However, overall storage performance is excellent, outpacing all competitors.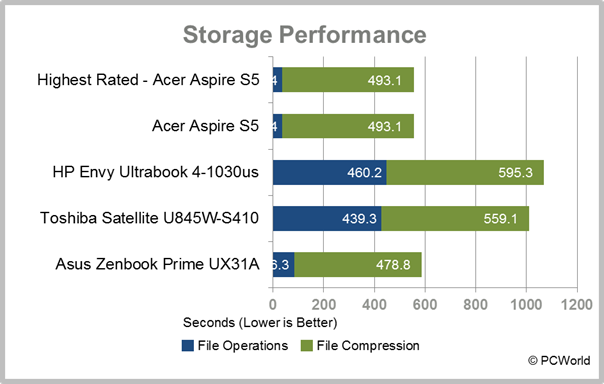 As you might expect, gaming performance is limited, since the Zenbook relies on Intel's HD 4000 integrated GPU. It's an improvement over past Intel graphics efforts, but no replacement for a discrete graphics chip. With demanding games, you'll need to dial down the graphics settings for playable frame rates.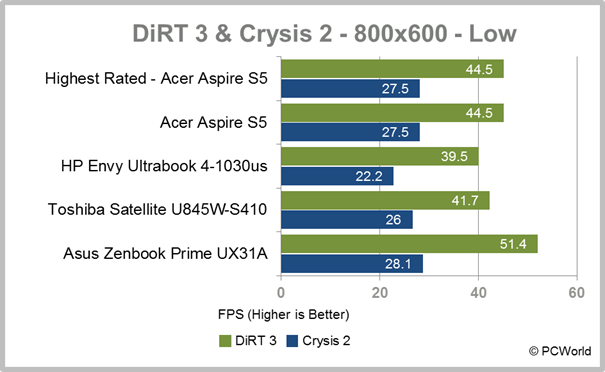 In the end, Asus essentially maintains performance parity with the similarly priced Acer Aspire S5, but includes a better display.
Battery life is an excellent 6 hours, 24 minutes, falling just short of Toshiba's larger U845W and outpacing the rest of the pack of recent Ultrabooks.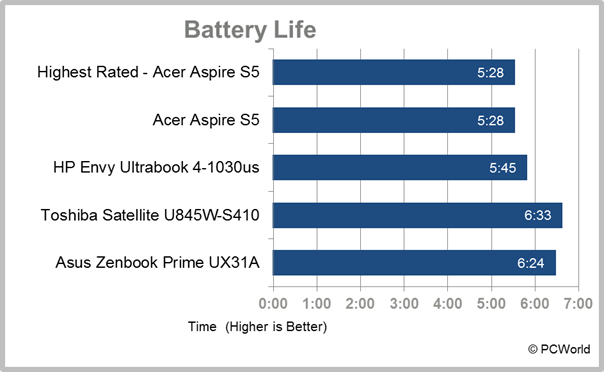 Ports and Connectivity
The Zenbook ships with two USB 3.0 ports, one on each side. This is only just acceptable, but the lack of additional USB ports is mitigated by built-in Bluetooth and an integrated SD card reader that supports the latest SDXC high-capacity cards. Other ports include a mini-VGA port and a micro HDMI connector for external display and projector connectivity, plus a combination microphone/headphone jack.
On the networking side, the Zenbook ships with the aforementioned Bluetooth (4.0) and dual-band 802.11n that even supports the older 802.11a standard, making the system suitable for corporate use. While it doesn't include a built-in ethernet connector, Asus thoughtfully includes a USB-to-ethernet adapter.
The User Experience
The improved touchpad is certainly welcome, if not perfect. It's a bit overly sensitive out of the box, but changing the settings has a marked impact, unlike the original Zenbook. Palm detection works well, so your hovering palm doesn't send the cursor flying across the Windows desktop to be lost in a sea of icons.
Asus doesn't include excessive bundleware, but it does load in Microsoft's Windows Live software suite plus some useful utilities. The LCD panel's color balance can be tweaked using the Asus Splendid utility, but I'd suggest avoiding the "vivid" setting unless you like your color saturation particularly garish.
The keyboard disappoints a bit. While it's fully backlit, the keys themselves are mostly flat, textureless, Chiclet-style keys. I found my fingers occasionally slipping off one key onto another while touch typing, and the tiny bumps on the F and J keys barely enough to help in finding the home row. All this is mitigated slightly by the physical size of the keys, which are suitably large.
The 1080p IPS panel offers excellent color fidelity, though it's just a touch on the muted side. With a little calibration, the Asus could be a useful system for on-the-go photo editing. Video playback is excellent, with no stuttering or pauses. Viewing angles are superb, as you'd expect with an IPS monitor.
Storage is a little problematic. As with past Zenbooks, Asus partitions the speedy solid-state drive into two nearly equal-size partitions, one for the OS, and another for data. This means you're constantly juggling which drive to use. I would have much preferred having a single partition—256GB isn't a vast amount of space by today's standards, so splitting up the SSD in this fashion isn't very useful.
Final Thoughts: Incremental Improvements Add Up
The Asus Zenbook UX31A represents an incremental evolution over the original UX31E, but the improvements are welcome. The Ivy Bridge CPU and high resolution panel finally realizes the potential of the sleek chassis. The touchpad is much improved, though the keyboard is the same flat, Chiclet style. The real star of the show, however, is the 1080p LCD display. Editing photos or viewing movies on the system is a real treat, and made better by the reasonably good built-in speakers.
The UX31A is not without quirks, like the oddly partitioned storage system. But overall, the new Zenbook represents a near-pinnacle of the Ultrabook design. It performs well, is super-slim and light, and looks fabulous.
Best Prices Today: Zenbook Prime UX31A