At a Glance
Expert's Rating
Pros
Schedules and manages backup images
Makes it easy to use recimg.exe
Cons
Adds no new functionality
Our Verdict
RecImg Manager leverages Windows 8's disk imaging abilities to create a tidy, lightweight backup solution.
RecImg Manager is a Metro interface and manager for the new Windows 8 recimg.exe command line utility and the recovery images it creates. Unlike full images, recovery images don't contain or documents, user settings, etc.; these are left alone when a recovery image is created or restore. However, they do contain everything else, and with no differential or incremental options, they are generally quite large.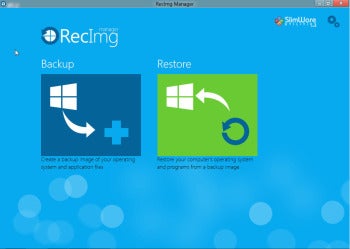 RecImag Manager lets you avoid using the command prompt window to run recimg.exe so you can more comfortably enter the details for recovery images such as the name and storage location. It also handily adds the ability to schedule their creation and manage the number of images that are retained.
I did note one small issue with RecImg Manager. After I cancelled a backup, I was unable to quit the program, receiving warnings that a backup was still in progress. Task Manager showed that recimg.exe, which is easily cancelled, was still running. After ending the recimg.exe process, I was able to quit RecImg Manager.
RecImg Manager is undeniably handy, and puts a much-needed friendly face on this Windows 8 command line backup and recovery feature. Indeed, I wish Slimware Utilities would do the same thing with Windows xcopy.exe so we could all more easily perform file and folder backups.
—Jon L. Jacobi