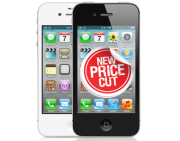 If there was one way to confirm a new iPhone is headed our way next month without saying so, Apple just did it. After several major retailers began to slash $50 off the iPhone price to spur sales in anticipation of a new model, Apple is now matching these discounted prices.
A document leaked to MacRumors shows Apple gave its retail stores authorization to match discounted iPhone prices from major retailers and carriers. Macworld confirmed with Apple that store representatives will honor the price matches, meaning you can get an iPhone 4S with a $50 price cut, at $150 for 16GB, $250 for 32GB and $350 for 64GB, or an iPhone 4 for just $50 — all with a two-year contract, of course.
The deal is not available for online purchases from Apple at the moment, and it's not advertised in stores. Instead, you must mention the price match offer to an Apple store employee. It's likely that some kind of proof will be required for the price match, such as a flyer or a printout. Offers from lesser-known retailers won't be accepted, but only from major retailers such as Best Buy, RadioShack, Target, or cellular carriers.
The most probable reason why retailers and carriers such as Sprint are slashing $50 off the iPhone price is because sales are stalling as prospective customers hold off for a new iPhone. In its third quarter conference call, Apple CEO Tim Cook acknowledged slower iPhone sales due to people reading rumors about the upcoming iPhone. This next-generation iPhone is widely reported to arrive on September 12, and Apple's unusual price match deal is signaling there's not long until it arrives.
As my colleague Jared Newman explains, it's not worth buying an iPhone 4S at $50 off right now, as Apple will probably drop the price of the device by $100 when the new model launches — but only with 8GB storage — so this could bring savings only if you are looking for a higher-capacity device.
Follow Daniel Ionescu and Today @ PCWorld on Twitter.