After much, much, much kicking and screaming from record companies, streaming music via free (with paid options) services such as Spotify and Pandora have finally managed to become a legal staple in the digital media world.
And–surprise, surprise–it looks like the record companies are actually earning money from streaming music. Warner Music Group announced Thursday that it saw strong growth in digital revenue in its "Recorded Music" business last quarter. It also said that 25 percent of its digital revenue for Recorded Music came from streaming services.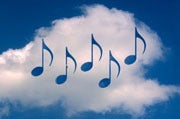 Streaming services include subscription services such as Spotify and Rhapsody, Web radio services such as Pandora and Sirius, and YouTube, but does not include cloud "lockers," such as Amazon's new cloud service.
AllThingsD did the math: Approximately $54 million, or about 8 percent of Warner's total revenue for the third quarter of its fiscal year, came from streaming services. In fact, Warner said that when you take out the effect of international currency fluctuations, its digital sales increased enough to offset its decrease in physical sales.
In other words, people are buying fewer physical CDs in record stores, but to make up for that fact they are purchasing more online music.
I know this probably doesn't sound like news to most of you–it's just business as usual. One industry (physical music) declines, another (digital music) rises to take its place. But remember that the Recording Industry of America (RIAA) has spent the better part of the last decade unable to cope with the changing face of the music industry.
RELATED: So, You're Being Sued for Piracy

Anyway, I'm happy that Warner Music Group is making good money off of streaming services, and digital music in general. I hope this means that record companies will see what everyone else has seen for the past ten years–the Internet, and digital music, is not the enemy. (The RIAA, on the other hand…)
Follow Sarah on Twitter, Facebook, or Google+, and follow Today @ PCWorld on Twitter.