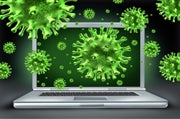 Another day, another scary computer virus tearing through the Middle East. The latest piece of malware is called Gauss, and it's designed to steal bank account credentials while gathering as much information about the infected machines as possible.
Should the new Gauss malware be of concern to the average PC user? Probably not, but it never hurts to bone up on the basics anyway:
What's unique about Gauss?
Gauss is cut from the same cloth as the Flame malware that spread through Iran and the Middle East earlier this year, and is reminiscent of the infamous Stuxnet worm. But unlike those instruments of cyber-warfare, Gauss' main purpose is to target banking information from Lebanese banks as well as Citibank and PayPal, according to Kaspersky. The purpose of this targeting is likely espionage, rather than theft.
Which operating systems does Gauss infect?
Gauss primarily infects 32-bit versions of Windows, though a separate spy module for USB drives can collect information from 64-bit systems. Infections are mainly split between Windows 7 and Windows XP, although some of the Gauss modules don't work against Windows 7 Service Pack 1. Mac and Linux machines appear to be safe.
Who's getting infected?
Almost all known incidents have taken place in the Middle East, with 1,660 infections in Lebanon, 483 in Israel, and 261 in Palestinian territory. Although 43 incidents were reported in the United States, Kaspersky suspects that those computers were actually located in the Middle East, and merely using VPNs or anonymity networks. Kaspersky tracked 2,500 infections, but that only covers users of Kaspersky's antivirus products–the real number of infections is certainly higher.
When did Gauss operate, and is it still active?
Kaspersky says the first known infections began in September or October of last year, but went offline in July 2012.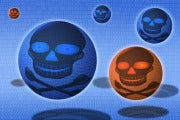 What's the danger to average users?
Not much. Gauss attacks were targeted toward one region of the world, and mostly in one country. The number of targeted attacks were high for such a small area, Kaspersky says, but it doesn't look like the malware was allowed to spread.
Any way to find out if you're infected?
Fortunately, Gauss left a calling card: Infected computers received a custom font called "Palida Narrow," so testing for infection is as simple as finding the font. You can also check over the Web through Kaspersky's Website.
Follow Jared on Twitter, Facebook or Google+ for even more tech news and commentary.