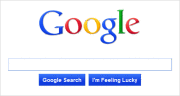 When assigning search result rankings, Google will now take reports of copyright violation into account.
The goal is to give better placement to sites that publish content they either own or have legally licensed, and penalize those that use content without permission, the company said in a blog post on Friday.
To gauge how well websites meet this criteria, Google will look at how often the sites have been validly reported to it as violating copyright. The main method of reporting a violation is through a removal notice, in which a copyright holder requests that a site be taken out of Google's search results.
"Sites with high numbers of removal notices may appear lower in our results. This ranking change should help users find legitimate, quality sources of content more easily," wrote Amit Singhal, senior vice president of engineering at Google.
It's the latest of more than 200 "signals" Google uses to rank websites. Google decided to add it to the search algorithm mix at this time because Google now receives considerably more copyright infringement notices than it did two years ago, reaching a critical mass that makes it a relevant data set for search rankings.
"Since we re-booted our copyright removals over two years ago, we've been given much more data by copyright owners about infringing content online. In fact, we're now receiving and processing more copyright removal notices every day than we did in all of 2009 — more than 4.3 million URLs in the last 30 days alone," he wrote.
Of course, Google has also been on the other side of this debate almost since its founding, and continuing to this day. It has been sued multiple times over the years for copyright violation by a variety of prominent companies, including book, newspaper and magazine publishers; photographers and graphic artists; and film and television production companies.
Juan Carlos Perez covers enterprise communication/collaboration suites, operating systems, browsers and general technology breaking news for The IDG News Service. Follow Juan on Twitter at @JuanCPerezIDG.