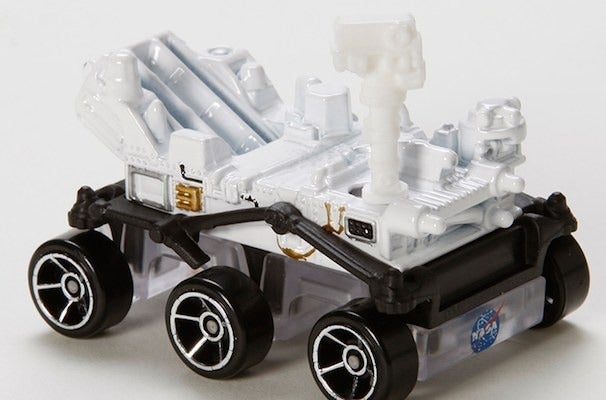 On Friday, we looked at a Lego model of NASA's Curiosty rover on Lego Cuusoo. It's cool, but it's also not available for sale (though you can make your own if you want), If you're looking for something you can go out and by, though, Mattel has something for you.
Mattel is gearing up to sell its very own die-cast replica of Curiosity as part of its Hot Wheels car line. The new plaything, which is the first NASA mission since 1999 to be made into a Hot Wheels toy, comes in at a 1:64 scale of the original NASA robot. It measures 2 inches long by 1.5 inches high by 1.25 inches wide.
As you might expect, the low cost Hot Wheels version of the Curiosity Rover isn't a perfect replica of the $2.5 billion real-deal. The toy lacks the spacecraft's crane and chute, but the six-wheel buggy does have the motor, drill and camera detailed in its cast.
Although NASA's rover successfully touched down on the red planet earlier this week, Mattel's Hot Wheels version of the Curiosity machine, expected to be priced just over a dollar, won't be parachuting into stores until September.
If you can't wait until next month for some Mars-based amusement, you can alwaysbuild the aforementioned Lego model, or get a free game that simulates the landing on Xbox Live.
[CollectSpace via Space.com]
Like this? You might also enjoy…
Get more GeekTech: Twitter – Facebook – RSS | Tip us off