Google's nod to Hollywood with its decision to demote in its search results sites accused of copyright infringement raises questions about fairness and the ability of suspected violators to challenge the move.
The Motion Picture Association of America has praised the Internet search leader's announcement on Friday, while some advocates of Internet freedom have panned it or had a lukewarm response.
Every so often, Google changes its search algorithms and when it does everyone wonders how search results will change.
The company says that starting next week, sites with high numbers of removal notices for infringing copyright may appear lower in search results.
"This ranking change should help users find legitimate, quality sources of content more easily — whether it's a song previewed on NPR's music website, a TV show on Hulu or new music streamed from Spotify," Engineering SVP Amit Singhal wrote in a Google blog post.
Happy Hollywood
The Motion Picture Association of America said in a statement (PDF) it is pleased. It is optimistic the change will steer people away from "outlaw enterprises that steal the hard work of creators across the globe," wrote Michael O'Leary, a SVP with the MPAA. "We will be watching this development closely – the devil is always in the details – and look forward to Google taking further steps to ensure that its services favor legitimate businesses and creators, not thieves."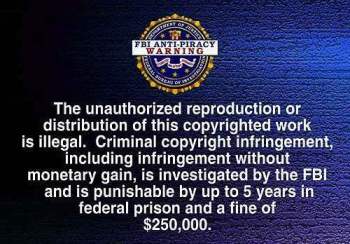 The Recording Industry Association of America spoke out in favor, as well.
"This should result in improved rankings for the licensed music services that pay artists and deliver fans the music they love. This change is an important step in the right direction — a step we've been urging Google to take for a long time — and we commend the company for its action," said RIAA Chairman and CEO Cary Sherman in a statement.
It's an interesting move by Google, which has long been criticized by Hollywood for its hands-off approach to copyright infringement.
For instance, earlier this year at the D10 developer conference Hollywood mogul and talent agent and Ari Emanuel complained that Google could easily filter out pirated content. "I don't want them to censor results, but they have a bunch of smart guys there that can figure this stuff out … Look, Google can filter and does filter for child pornography. They do that already. So stealing is a bad thing, and child pornography is a bad thing," he said.
Google Partnerships
While likening piracy to child porn is certainly a stretch — to say the least — the point is that Hollywood has long been pushing Google to get involved in its anti-piracy efforts. And while Google stood up to Hollywood-backed SOPA back in January by blacking out its logo and urging people to tell congress not to censor the web, the search giant clearly is trying to do more to appease groups like the MPAA and RIAA.
Why?
Search Engine Land's Danny Sullivansays Google needs to make friends with Hollywood.
"Google — now a content distribution company that really wants partnerships — has finally decided it needs to deal with the embarrassing situation of pirated content showing up in its results (this happens at Bing, too, but Hollywood generally doesn't care about that)," he wrote.
Google, however, says it's now able to get involved in demoting sites that infringe copyright because of the sheer number of copyright removal notices it receives.
It says it is now receiving and processing more copyright removal notices every day than it did in all of 2009 — more than 4.3 million URLs in the last 30 days alone.
Questions Abound
Not everybody is pumped up about Google's new search algorithms.
"Sites may not know about, or have the ability to easily challenge, notices sent to Google. And Google has set up a system that may be abused by bad faith actors who want to suppress their rivals and competitors," wrote John Bergmayer, a senior staff attorney with the digital rights group Public Knowledge.
In a recent story about some of the world tech legislation going, PCWorld made this very point about the Digital Millennium Copyright Act — the legislation signed into law in 1998 and now responsible for the incredible amount of copyright removal notices Google receives.
DMCA is often used against consumers, scientists, and legitimate competitors. For instance, in 2009 Google said that more than half of the takedown notices it had received under the DMCA were sent by businesses targeting competitors and that more than one third were not valid copyright claims.
The Electronic Frontier Foundation also has some concerns with Google's new search algorithm.
"In particular, we worry about the false positives problem. For example, we've seen the government wrongly target sites that actually have a right to post the allegedly infringing material in question or otherwise legally display content. In short, without details on how Google's process works, we have no reason to believe they won't make similar, over-inclusive mistakes, dropping lawful, relevant speech lower in its search results without recourse for the speakers," the EFF wrote on its website.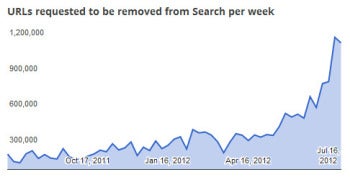 In addition, some people wonder how it's fair that some Google products won't run through the same filter that every other site has to.
"Requests for products other than Google Search (e.g, requests directed at YouTube or Blogger) are not included," states Google. The reason? People who want to report infringing activity can do it on special takedown forms found directly at YouTube and Blogger. Fine, but to be most statistically accurate all sites should be in the same sample.
Want to see which sites are most often accused of ripping others off, as well as the organizations most often reporting them? Visit Google's Transparency Report page, which shares lots of interesting information.
Follow Christina on Twitter and Google+ for even more tech news and commentary and follow Today@PCWorld on Twitter, too.