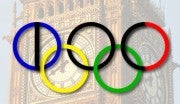 Google's doodles during these Olympics have ranged from tributes to athletes to collections of different sports. Some have been interactive. Others have harkened back to earlier times in history.
You'd have to live in a cave or under a rock to not know the 2012 London Olympics have been underway for the last 2.5 weeks and were wrapping up Sunday.
But in case you missed any of the 17 Google doodles featured on its homepage that have accompanied the Games, here's a rewind.
August 12

A summary doodle of sorts, this one is simple and shows 23 athletes from various sports on a turf amidst streamers, some of whom hold letters to the Internet search leader's name. Click on it and you'll land on a search results page for "closing ceremony," where you can learn that the event has been dubbed "the greatest after-party in the world."
Other tidbits: NBC changed course and will stream the event live to cable and satellite customers who visit NNCOlympics.com; performers will include the Spice Girls, The Who, George Michael and others; and Rio de Janeiro will give the world a taste of what to expect at the 2016 Olympics — the first time South America will host the games.
August 11
A nod to rhythmic gymnastics, this doodle shows a female athlete manipulating a ribbon in front of a crowd. The ribbon makes up the Os in Google's name. Gold medalist Evgeniya Kanaeva of Russia said she has been doing gymnastics since the age of 6. "Since that time I have practiced every day, eight hours a day. I did exceedingly well and I am so happy I have succeeded," she said after receiving her medal.
August 10 (Interactive)

The last of several interactive games Google concocted for its home page, in this one you get to be a soccer goalie. Using your left and right arrow keys you can move around in front of the net and tap the spacebar to jump and repel balls an opponent fires at you. The better you are, the faster they fly. Google gives you a score that reflects your performance. If you're proud of how you did you can share the number on Google+. Play the game at the Google doodle gallery.
August 9 (Interactive)
Slolam Canoe takes the spotlight in this doodle and by using your left and right arrow buttons you can manipulate your canoeist through gates. It's not easy, however, and you will lose speed for crashing into a stone, frog or side bank. Get virtually wet at the Google doodle gallery.
August 8 (Interactive)
In this interactive doodle your goal is to try to shoot as many baskets as you can before the 24-second shot clock runs out. Tap the spacebar once to power up your shot and tap again to release the ball. Visit the Google doodle gallery to play.

Aug. 7 (Interactive)
By tapping your front and back arrow keys and space bar you can make the hurdler in this interactive doodle run and jump. Google times your performance so you should tap furiously. If you knock over a hurdle your runner will slow down and if it takes him too long to reach the finish line he slumps his head in defeat. If you get him there quickly he throws his arms up in triumph. Visit the Google doodle gallery to compete.
August 6
Way, way back in the day (think ancient Greece) the javelin was used in military combat because fighters could attack enemies without having to get close to them. Current day athletic javelins are lighter and, obviously, go for distance instead of penetration. During the London 2012 games gold medal winner Walcott Keshorn from Trinidad and Tobago threw his more than 8-foot javelin 84.53 meters — that's nearly a football field. The women's gold medal winner, Spotakova Barbora from the Czech Republic, threw hers 69.55 meters.
August 5
In this one, eight synchronized swimmers make up the first "O" in Google's name. Originally known as water ballet, people often refer to this hybrid between swimming, dance, and gymnastics as "Synchro."

Aug. 4
While you might have thought Google would have used the "L" in its name for the actual pole vault apparatus in this doodle, the artist that crafted it decided to place the letters loftily in the background, overlooking the stadium in which a female vaulter launches herself into the air. Upon closer inspection, however, you'll see her pole suggests the lower part of the second "G."
August 3
People have been competitively throwing heavy objects for years so it makes sense that Google would feature the sport of shot put in its Olympics homage. It's pretty incredible to see how far competitors can throw a metal ball — weighing 16 pounds for men and nearly 9 pounds for women. The Polish gold medal winner for the men's shot put this year threw his 21.89 meters.
August 2
Also known as ping-pong, table tennis has been around since the late 1800s when the British started playing it. Today, the Chinese dominate this fast-playing sport for two to four players who use paddles to knock back and forth a hollow ball.

Aug. 1
Google featured field hockey in this doodle. While it might not be a big deal in the United States, some variant of the game — in which players use sticks to flick a ball into an opposing team's goal — has been around for millennia.
July 31
Rings is a men's gymnastics sport that never ceases to amaze. The upper body strength it takes for these athletes to suspend, swing and hold themselves in mid-air is truly incredible so it's no wonder Google featured the sport in one of its doodles.
July 30
Fencing, a staple of the modern Olympics, also made the Google doodle lineup. In this one, two figures duel in front of an audience superimposed with Google's name, part of which — the L — is used as a weapon. Fencing has been going strong since the 15th century and since then rules of the sport dictate that weapons must be held with only one hand; the unarmed hand can't be used; and duelers may only strike the upper body minus the head.
July 29

In this one, a female diver prepares to do a backward plunge into a Google-infused pool far below her. As for that pool, it took three years to specially construct it for London 2012 and features a spectacular wave-like roof that turned out to be one of the most complex engineering challenges of the Olympic Park build.
July 28
A female archer aims for the second "o" in Google's name. In the 2012 games South Korea dominated, followed by Italy and China.
July 27
This doodle celebrated the official start of the London 2012 Olympics with a cheery and colorful cartoon that featured a handful of athletes holding the letters of the search giant's name, including one with a javelin representing an "L." If you hovered your pointer over the doodle when it was live you could see the message "Hurray for sports!" Clicks on it took viewers to a search results page for "opening ceremony London 2012."
Follow Christina on Twitter and Google+ for even more tech news and commentary and follow Today@PCWorld on Twitter, too.