At a Glance
Expert's Rating
Pros
Accesses very old email messages
Cons
Little guidance offered
Will not be useful to many people
Our Verdict
View Microsoft Outlook Express 4,5, and 6 e-mail without having access to Outlook Express.
Switching email clients is a painstaking proposition, but accessing old messages is a little easier with handy utility MiTeC Mail Viewer (free).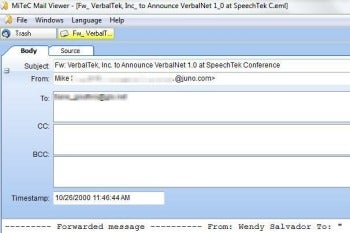 Mail Viewer lets you access mail databases from Microsoft Outlook Express 4, 5, and 6; Windows Mail/Windows Live Mail; and Mozilla Thunderbird, as well as single EML files. It doesn't require installation: just run the executable file whenever you need to access it. You won't get a lot of hand-holding along the way, however, as Mail Viewer offers little guidance.
To use the program, you have to know what kind of messages you're looking for, and it's helpful to have an idea of where they're stored. Mail Viewer lets you choose between opening an Outlook Express message database, a folder containing EML files (from Windows Mail or Windows Live Mail), a Mozilla Thunderbird database, and a single EML file. It will suggest a location for the databases, but if you've moved messages over from an older computer or stored them on a networked drive, you're going to have to point Mail Viewer to the correct location.
Once you locate the messages you'd like to view, Mail Viewer excels. This utility lets you read messages, complete with attachments, just as easily as if you were using your original email client. You can see the sender, any other recipients, time stamps, and more. Messages can be saved and printed.
If you've been using Gmail for years, and have a complete online record of all the messages you've sent and received, then you're probably wondering why there's a need for MiTeC Mail Viewer. But if you have a locked database of old Outlook Express messages that seems to be tougher to open than a safe at Fort Knox, Mail Viewer holds the key.
Note: The Download button takes you to the vendor's site, where you can download the latest version of the software.
—Liane Cassavoy