The GameStop of the future may bear little resemblance to the used game repository that it is now.

GameStop is moving into the used gadget business as consumers spend more time playing video games on their smartphones and tablets, and spend less money on more expensive console games.
Although GameStop has been dabbling in tablet sales for some time, the company now views gadget resale–particularly of Apple devices–as a major turnaround strategy, according to a report in the San Francisco Chronicle. The company expects to make $200 million in mobile sales this year.
GameStop also started accepting Android tablet trade-ins last June, and purchased the online electronics buyback Website BuyMyTronics.com in March. At a $7 million refurbishment center in Texas, GameStop fixes old devices for resale on store shelves, and loads up some of those Android tablets with mobile games.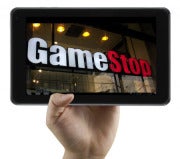 In addition, GameStop was one of the first retailers to sell Google's Nexus 7 tablet. That product is neither refurbished nor preloaded with any extra content, but for many consumers it may be their first taste of GameStop's new business model. (It's possible to trade in a first-generation iPad for the Nexus 7 and still have enough store credit left to buy a used console game.)
Over the past six months, Gamestop stock plummeted from a high of $25.86 in February to $15.32 in late July after failing to meet earning expectations. The games industry as a whole has been in decline for years, and while new consoles from Nintendo, Sony, and Microsoft may eventually help the industry rebound, it's unclear where Gamestop will fit in. Game publishers have a tense relationship with Gamestop, because they rely on the retailer for initial sales but make no money on used game sales.
Game console makers may be quashing resale, as well. Reports suggest Sony's next Playstation and Microsoft's next Xbox will both build in restrictions on second-hand games. Game publishers already try to hamper game resale by requiring a one-time use voucher for certain features, such as multiplayer capabilities. New consoles could make used games easier to lock down in this manner, or shut out used games completely. Even if those rumors don't pan out, it's likely that new consoles will more be more aggressive in pushing downloadable games over discs.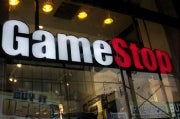 The future of Gamestop's existing used game business model is murky at best, and in serious jeopardy at worst. Getting into used gadget sales makes sense since there aren't a lot of retailers doing it; and given the fast product cycle of consumer electronics, demand could be strong for cheap, previous-generation hardware.
Meanwhile, the accelerated decline of used games should be welcomed if it brings consoles closer to the PC gaming and app store models. A market where game publishers can stimulate sales with their own price cuts, and where consumers can download games instantly and without friction, would be a win for everyone.
Follow Jared on Twitter, Facebook, or Google+ and follow Today@PCWorld on Twitter for even more tech news and commentary.