You might not be able to take your eyes off of Samsung's refreshed Series 7 Gamer laptop. In addition to a processor and graphics card update, the gaming rig boasts 3D support on its 17-inch SuperBright display and a glossy coat of bright yellow paint.
The Series 7 Gamer Yellow 3D is the successor to Samsung's first dedicated gaming laptop, the Series 7 Gamer. That model launched in the U.S. earlier this year, and PCWorld's review of the Gamer found it to be impressively powerful for mobile gaming.
This souped-up gaming laptop is scheduled for release in Korea on August 14, according to Samsung statement. If it comes stateside and for the same price as it will retail in Korea, the Series 7 Gamer Yellow 3D may cost about $750 more than the original Gamer 7–a little under $2650.
Screaming Yellow Specs
The processor and graphics card updates should make the Series Gamer Yellow 3D even more powerful. Instead of the Intel Core i7-3610QM processor with a stock speed of 2.3GHz, the Gamer Yellow 3D has a triple-core Core i7-3610QM chip running at 3.3GHz. It may mean a small overall performance boost, but the new chip supposedly will also improve the battery life. (The original Series 7 Gamer lasted just three hours in our tests).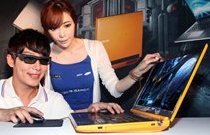 A bigger update is Samsung's swap of the Nvidia GeForce GTX 675M with an AMD Radeon HD 7870M graphics card with 2GB of video memory. While the HD 7870M is AMD's mid-range mobile GPU and the GTX 675M is Nvidia's top-of-the-line GPU, videocard benchmarks show the HD 7870M to be significantly faster than the GTX 675M.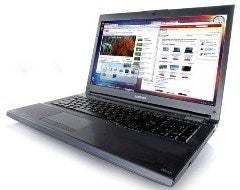 Unlike the more subtle design of the original Gamer, this new Yellow 3D model screams "gaming laptop." So will wearing those glasses for immersing yourself in 3D games and movies on the large 3D LED display (with 400 nit brightness).
Other updates include a larger 1TB drive to store all that media, and a new hard disk configuration with a 128GB SSD for quicker start-up.
Follow Melanie Pinola (@melaniepinola) and Today@PCWorld on Twitter