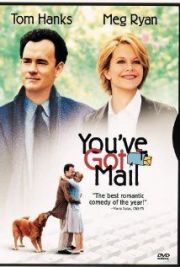 So you finally made the move from AOL to Gmail, but you're missing one beloved feature from the former: The "You've got mail" announcement that heralds the arrival of a new message.
Or maybe you're just a die-hard fan of the eponymous movie.
Either way, if you use Chrome to access your Gmail account, you'll appreciate this: The You've Got Gmail extension adds that familiar catchphrase to your inbox.
This isn't just about nostalgia, though there is certainly that aspect to it: the sound clip is exactly the same as what AOL plays (which makes me think there might be a copyright violation at work here, meaning AOL or Google might take it down at some point).
No, You've Got Gmail also serves a practical purpose: to notify you audibly when new mail arrives.
Indeed, one thing Gmail isn't great at is letting you know when, well, you've got mail. But with this you'll definitely know when a new message arrives.
If the notifications get to be too frequent (that is, if you get a lot of mail), you can always click the You've Got Mail icon (which displays a numeric tally of your unread messages) and then click the Mute button.
As an AOL expat and onetime fan of the service, I must admit I'm getting a kick out of You've Got Mail. It lets me know when there's something new in my inbox and lets me stroll down memory lane.
Contributing Editor Rick Broida writes about business and consumer technology. Ask for help with your PC hassles at hasslefree@pcworld.com, or try the treasure trove of helpful folks in the PC World Community Forums. Sign up to have the Hassle-Free PC newsletter e-mailed to you each week.