At least four PC makers plan to launch hardware — not strictly tablets — running Windows RT, Microsoft says.
In a blog post, Microsoft named Asus, Dell, Lenovo, and Samsung as the first Windows RT hardware makers, joined, of course, by Microsoft and its own Surface tablet. More details on these devices will come closer to the October 26 launch of Windows 8, but Microsoft says to expect more than just tablets from Windows RT.
"Some of our Windows RT PCs come with full keyboard and touchpad solutions, whether removable/dockable or a traditional clamshell," Microsoft's Mike Angiulo wrote.
So far Windows RT, which is designed for ARM-based chips from Nvidia, Texas Instruments, and Qualcomm, has been most notable for what it can't do: It can't run legacy Windows software, and it can only install apps from Microsoft's Windows Store. Windows RT will include bare-bones desktop functionality and a version of Office 15, but the RT version of office will reportedly lack a few features, compared to the full version of Office for x86-based processors.
Microsoft's blog post points to some of the benefits that Windows RT devices will enjoy. For instance, they'll have a "connected standby" feature that allows them to update e-mail and other information while the device is sleeping, without draining battery life.
Microsoft also suggests that battery life on Windows RT devices will be superior to x86-based Windows 8 machines, falling in a range of 8 hours to 13 hours of HD video playback. But since we haven't seen any official specs for x86 Windows devices, we can't make any real comparisons.
The same goes for the height and weight ranges that Microsoft provides: Windows RT tablets will weigh between 1.15 pounds and 2.64 pounds, and measure between 0.33 inches and 0.62 inches thick, but Microsoft own x86-based Surface Pro tablet will also fall within those measurements. Until we get more specifics on hardware, it's too early to say whether all Windows RT tablets will have better battery life and slimmer profiles than all Windows 8 tablets.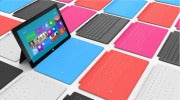 I did find this one tidbit from Microsoft's blog post rather interesting, though (emphasis mine): "Windows RT software will not be sold or distributed independent of a new Windows RT PC, just as you would expect from a consumer electronics device that relies on unique and integrated pairings of hardware and software. Over the useful lifetime of the PC, the provided software will be serviced and improved."
This suggests that, at least for Windows RT, Microsoft will offer more frequent software updates, perhaps mimicking the yearly update cycle of Apple's iOS and Google's Android. That would make sense if Microsoft wants to keep pace with its competitors' software innovations, but it also raises questions about how frequently Microsoft will offer updates for x86-based machines.
Unfortunately, Microsoft's blog post doesn't answer the biggest question of all: How much will Windows RT tablets cost? Give it a month, or two at the most, and we'll finally get an answer.
Follow Jared on Twitter, Facebook or Google+ for even more tech news and commentary.