At a Glance
Expert's Rating
Pros
Good multiuser support
Full-featured package
Free iOS app and free copy for your accountant
Cons
Add-on product offerings lack depth
Not easy to import data from other programs
Our Verdict
Acclivity AccuEdge Pro (formerly MYOB) delivers a reasonably priced accounting package that's especially strong for multi-user situations and people who can use its free companion iOS app—but it lacks the third-party support available for competitors QuickBooks and Sage.
AccountEdge Pro keeps things simple. You can get a single-user edition of AccountEdge Pro for $299, and each additional user for an existing installation costs $149. The upgrade price for existing customers is $159.
That makes AccountEdge Pro somewhat cheaper than Sage 50 Complete Accounting 2013 (for individuals, at least), but more expensive than QuickBooks Pro 2012–and, at this early August writing (a couple of months before Intuit's annual refresh), you can even find the higher-end QuickBooks Premier 2012 for less. However, QuickBooks' price advantage evaporates if you want to add users: You pay the same for each new QuickBooks Pro license as for the initial license, and extra Premier licenses are more expensive than the current discounted price. Also, while AccountEdge supports up to 15 simultaneous users, QuickBooks Pro and Premier support only 5.
QuickBooks gets a lot pricier with its payroll service, too. That service costs $42 a month or $504 a year, whereas Acclivity's equivalent service runs about $350, and you can save even more by opting for a basic service that does the payroll math but doesn't e-file forms.
In terms of usability, AccountEdge Pro 2012 sharply reduces the intimidation factor in setup by letting you tackle it in chunks. To create a new company file, you walk through half a dozen screens that cover entering basic company info (name, tax ID, address, and so on), making a few basic accounting choices (defining fiscal year, setting the date for your first transaction entries, specifying the number of accounting periods), creating a list of accounts (AccountEdge offers suggestions based on common business types), and specifying the location for the data file.
After that, AccountEdge Pro presents you with the Easy Setup Assistant screen, whose wizards address options in five categories: Accounts (to edit the list of accounts and enter details on starting balances), Sales (including customer and pricing information), Purchases (for vendor and expenditure data), Payroll (for employee and payroll tax numbers), and a Customization section (for miscellaneous options relating to data entry, reminders, and more). The program explains these features clearly and identifies common choices instructively, with additional details on a well-organized and thorough Help Center.
Once setup is complete, AccountEdge's newly redesigned interface presents a fairly standard lineup of sections (which it calls Command Centers) in tabular form, with bright blue rectangular buttons instead of plain text links leading to ledgers and forms. On the right, a new sidebar holds links to recently accessed features, features that you've designated as favorites, and a full array of help resources.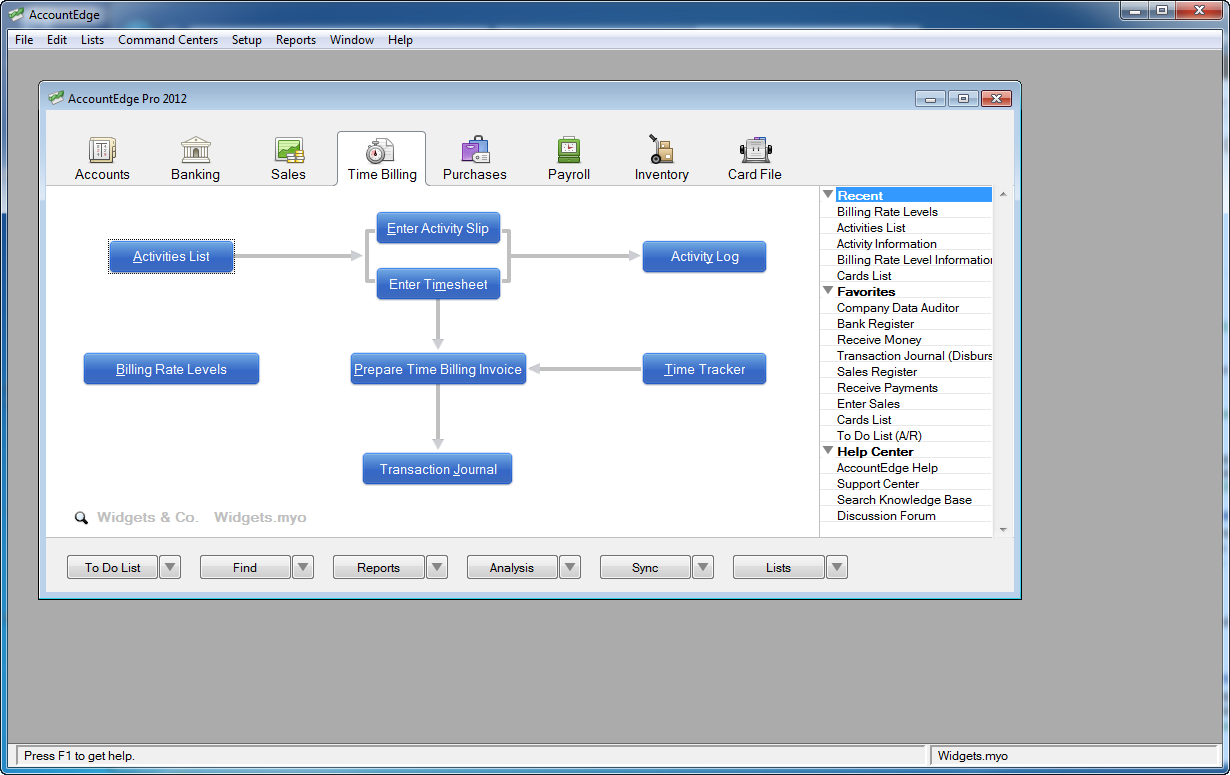 The program's redesign includes additional navigation aides at the bottom of each command center in the form of buttons for a to-do list, searching transactions, reports, analyses, syncing data, and lists. Other new features in 2012 include support for mileage tracking and multiple blling rates.
Businesses that send employees into the field will appreciate AccountEdge Pro's free iPhone/iPad app–something other packages don't offer–for entering sales, expenses, activity slips (to record time billing while in the field), and contact info, and then syncing it all with the desktop software. To encourage adoption, Acclivity also offers to give a customer's accountant a free copy of AccountEdge Pro.
Overall, AccountEdge Pro 2012 is an attractive, full-featured package that neatly balances ease of use and exposition of (and instruction for) its accounting underpinnings. It's also a bargain for businesses that want support for multiple simultaneous users.
This review is part of a roundup of accounting software. You can read the introduction to the story and find links to the other products we reviewed here.