At a Glance
Expert's Rating
Pros
Lots of third-party add-ons
Very easy for novices to set up and use
Cons
Weak inventory features
Limits you to five users
Pricey for multiple users or with payroll add-on
Our Verdict
QuickBooks Pro 2012 keeps its laser-sharp focus on automating routine business chores and catering to people with no accounting background; but it gets pricey with key add-ons, and its inventory features aren't great.
QuickBooks maintains its grip on the small-business accounting leadership year after year because it's relentless in its pursuit of small-business owners and managers who need help with the books but aren't versed in accounting. QuickBooks Pro 2012 is built on the same standard accounting structure as its competitors, but it does a pretty good job of minimizing the professional jargon–and adding features that help with chores that all businesses must tackle–from taxes and billing to rudimentary customer relationship management.
Like its higher-end sibling, QuickBooks Premier 2012, QuickBooks Pro 2012 lets you get started within a couple of minutes with an Express Setup routine involving just two screens. You need to provide a business name, basic contact info, a tax ID number, and industry type (from a preset list).
After that, Intuit lets you enter information–say, a customer record or merchandise item–on the fly. You can, however, opt for a more systemic approach if you prefer. For example, you can download a free app that syncs Outlook contacts with customer, vendor, or employee lists, or you can import an inventory list from Excel. Like other accounting software packages, QuickBooks lets you edit the default accounts that it creates based on your industry type.
QuickBooks' home screen shows a flow chart of business processes that the software manages. Clicking one of the chart's component icons takes you to the appropriate ledger or form. On a narrow pane to the right, a small window shows key account balances, a list of to-do reminders, and links to add-on products and services such as payroll and checks. And regardless of what's on the center screen, a row of icons above it and the Windows menu bar offer you quick transportation to other areas both within and outside the software.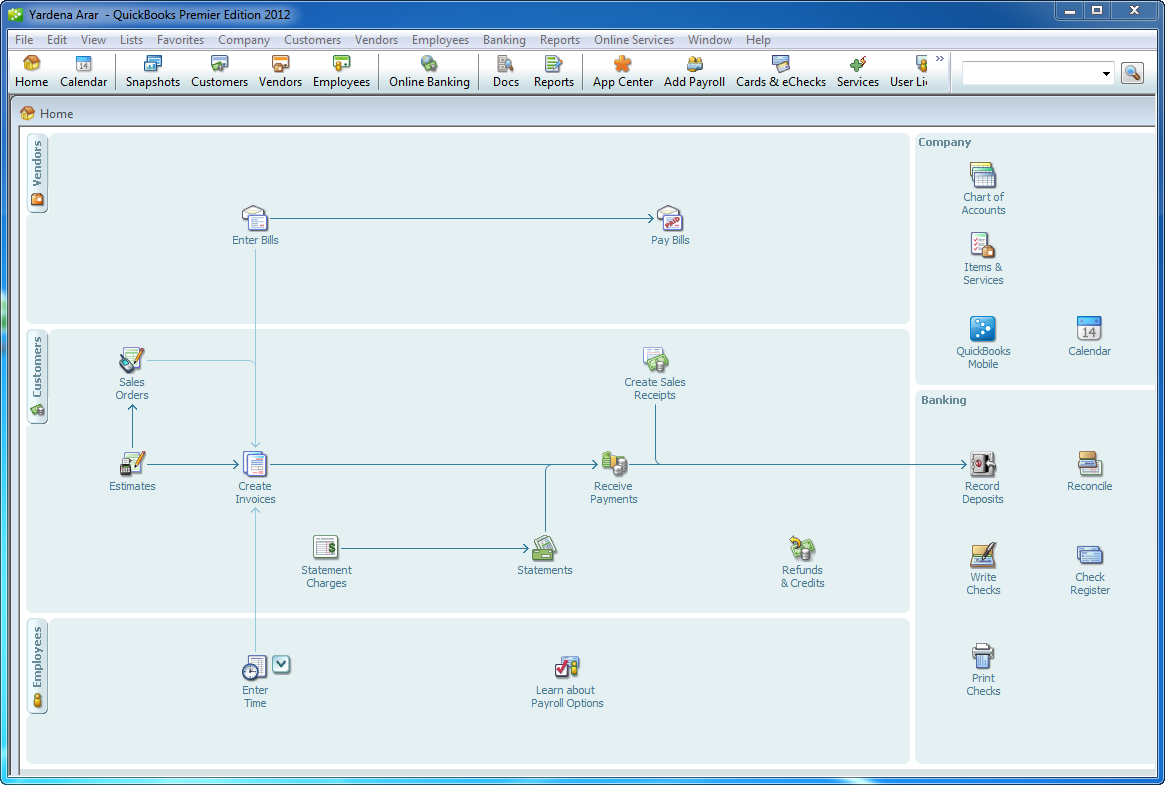 For example, an App Center icon summons links to dozens of third-party add-ons, which can greatly enhance QuickBooks' usefulness. Indeed, the breadth of third-party support is one of QuickBooks' geatest strengths.
By the same token, however, the explosion in third-party support suggests that, on its own, QuickBooks has weaknesses. It still lacks the rock-solid inventory management features found in Sage 50 Complete Accounting 2013, and even Acclivity AccountEdge Pro 2012 does a better job.
QuickBooks Pro's 2012 goodies include a calendar view to give you a handle on upcoming events (for example, quarterly tax-filing deadlines or payment due dates); regrettably, it doesn't sync with any other calendar that you might be using. The software integrates well with Microsoft Office for everything from data exports to spreadsheets to canned letters for sending to customers with overdue bills.
QuickBooks has always been strong in customizable report creation, but this year it takes that feature to new heights by allowing its huge user base to share their customized report templates.
Perhaps the most annoying thing about QuickBooks is its ongoing policy of sunsetting online feature support for older versions, which means, among other things, that you can't automatically download transaction information from your bank. It's a way of strong-arming users who are perfectly happy with an older version (right now Intuit supports only the 2010 editions and later) into upgrading to a newer version.
And though a single copy of QuickBooks Pro 2012 is competitively priced (normally it's $230; but at this early August 2012 writing, with the annual upgrade approaching, you can find it for less), costs mount quickly if you want to add simultaneous users, because you don't get a price break for the additional licenses. QuickBooks' payroll service, while comprehensive, is also pretty pricey.
Intuit offers several Premier versions of QuickBooks that have everything the Pro edition contains and add industry-specific features. The Premier options are considerably more expensive than Pro–$400 for a new copy–and additional licenses cost only $50 less than the first one. Also, QuickBooks Pro and Premier support a maximum of five simultaneous users; Intuit does sell enterprise products, but they are considerably more complex and expensive. If you think you'll want to support more than five simultaneous users, you might want to look at a competitor such as Acclivity AccuEdge Pro.
Still, for small-businesses managers who prize ease of use and a focus on automating as many business chores as possible without getting into the minutiae of standard accounting practices, QuickBooks remains the product to beat.
This review is part of a roundup of accounting software. You can read the introduction to the story and find links to the other products we reviewed here.