People holding off on buying iPhones in anticipation of a new model in September have led to a dent in Apple's sales, research from Gartner indicates. Samsung, however, has seen continued growth, increasing its Android market share to one-and-a-half times that of Apple.
There is a 2.3 percent drop in worldwide smartphone sales compared to the same period last year, according to Anshul Gupta, a principal research analyst at Gartner. Gupta blamed the decline on users postponing upgrades ahead of high-profile device launches expected in the coming months.
Apple's sales fell 12.6 percent from the first quarter of the year — although they grew 47 percent year-on-year. The outlook is not bleak, though: "High-profile smartphone launches from key manufacturers such as the anticipated Apple iPhone 5, along with Chinese manufacturers pushing 3G and preparing for major device launches in the second half of 2012, will drive the smartphone market upward," Gupta added.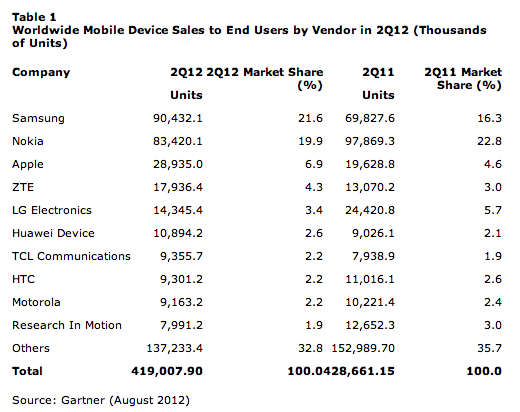 The research firm believes Apple might experience another weaker-than-usual quarter in the third quarter of 2012, depending on the exact launch date of the new iPhone. Apple is widely expected to introduce a new iPhone on Sept. 12, and to start shipping it a week later. In anticipation of the new model, big retailers are already discounting the iPhone by $50, and Apple is matching the offer at its stores.
Gartner believes Apple will see strong holiday sales. The firm's analysts said the next-generation iPhone should prove to be a big push for iPhone 4 users to upgrade because of its expected new design with a larger screen and likely other stylistic changes to the form factor.
Samsung Keeps the Crown
Samsung remained the undisputed king of phone sales in Gartner's books with 64.1 percent of the market share. It had a 25 percent increase in sales from the second quarter of 2011. Smartphones account for more than 50 percent of Samsung's mobile sales (45 million units), and the growth was attributed to record sales of Galaxy Android smartphones, in particular the Galaxy S III, which reportedly sold 10 million units.
Nokia is in the second spot head of Apple, but its sales also declined by almost 15 percent the past quarter. Gartner found sales of Nokia's Lumia smartphones are struggling, as the company is facing reduced profitability because of continuous declining sales of premium smartphones.
Gartner's smartphone OS market share figures for the second quarter put Android in the lead with 64.1 percent share, followed by iOS at 18.8 percent. Symbian and BlackBerry-maker Research In Motion each have over 5 percent, while Microsoft's Windows Mobile is on par with Samsung's Bada OS at 2.7 percent each.
Follow Daniel Ionescu and Today @ PCWorld on Twitter