A Canadian advertising firm is creating a high-tech dog collar for people who leave their canine friends in a parked motor vehicle.
The "Dog Caller" contains a SIM card, thermistor, some LEDs and a coded chip. When the temperature around the collar reaches 26 degrees Celsius (78.8 degrees Fahrenheit) an alert is sent to an owner's mobile phone warning them their dog's temperature is reaching an unsafe level.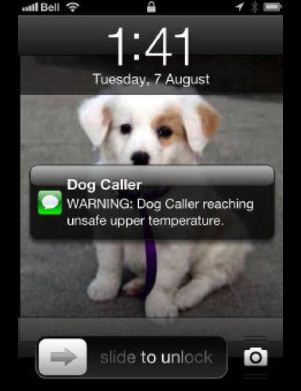 A prototype of Dog Caller has been created by the ad agency, Rethink, and the firm is planning to crowdsource production of the device, which it hopes to start selling next year at around $20 each.
Ad man Aaron Starkman explained to the Toronto Star that his concern for canine safety was raised after he had a close call with his dog Hefty overheating in his car.
Starkman left the dog in his motor vehicle while he made an anticipated quick trip into a camping store to pick up a stove. After standing in a check-out line for 20 minutes, he returned to his car to find Hefty suffering in the heat.
From that time, Starkman, a partner and creative director of Rethink, and his team at the agency began working to get the word out about protecting dogs from overheating. The agency, which is primarily known for its beer ads, created a Web campaign for "Doggy Havens," dog-friendly stores where dogs can loll in air-conditioned comfort on hot days.
"We never ever under any circumstance want anyone leaving a dog in a car," Starkman told the Star — but "if the collar does end up saving a dog in a car, we'll obviously be thrilled in that result."
Pet applications on smartphones aren't new. Neither is using wireless technology for canine safety. Last year, for instance, Snaptracs introduced a wireless pet tracker that snaps on a pet collar and could be used to keep tabs on a pet's location using GPS.
In the future, it may even be possible to play with your dog during those hours when you're away from it. Microsoft researchers have been experimenting with a robot that will play fetch with a pooch and dispense treats for good behavior.
Follow freelance technology writer John P. Mello Jr. and Today@PCWorld on Twitter.