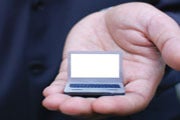 Lighter, thinner, and smaller laptops are in, and for good reason: They're ultraportable and therefore great for both schlepping to work and using on the road or vacation.
Unfortunately, smaller displays can often be a challenge to work on. Here are a few ways you can squeeze more productivity out of your limited screen space–and even take advantage of the benefits of working on a small screen.
Hide or Make Better Use of the Taskbar
Because every single pixel counts, the first rule of thumb is to hide all the elements that you don't constantly need on your display. The most apparent of these is the ever-present Windows taskbar.
To auto-hide the Windows taskbar–meaning it will be hidden until you move your mouse into the taskbar area–right-click on the taskbar, then go to Properties… and check Auto-hide the taskbar. Voila! The taskbar is gone until you need it.
If, however, you do like the handy way the taskbar keeps your most used programs within reach, you can instead move it off to the side. Because screens are wider than they are tall, moving the taskbar to the left or right will save more precious vertical real estate. Under the same taskbar properties mentioned above, change the "taskbar location on screen" to either the left or right.
While you're at it, make the taskbar icons smaller by checking the Use small icons option. This way, you can pin more programs and folders to your taskbar, saving you the time and effort of hunting them down on your (small and crowded) desktop.
Use Multiple Virtual Desktops or Windows Management Tools
The biggest benefit of working on a single laptop screen, as opposed to having a multimonitor setup, is better focus. The small displays force you to use apps in their full-screen modes to get the most out of them, which forces you to concentrate on just that Word doc or Web page or whatever you're looking at–there's no room for anything else!
But what if you have more than just one program you need to work with? Virtual desktops and windows management tools help organize your programs' windows to match your workflow.
Finestra Virtual Desktops (free), for example, lets you dedicate your word processing app to one virtual desktop, email to another, social websites to a third, and so on. Switching among all these virtual desktops is easy with hotkeys. You can quickly switch from focusing on what you're writing to taking care of email distraction-free.
If you want to see a couple of application windows at the same time, however, a program like WinSplit Revolution (free) will help you out. The program quickly snaps windows to the dimensions and areas of your screen that you want. It leaves no pixel wasted.
Offload Some Tasks to Your Smartphone or Tablet
If you own a smartphone or a tablet, you have more screen real estate.
Instead of checking your email in a desktop email client on your laptop or in a browser tab, you could just let your smartphone handle email notifications (and quick replies).
The same holds true for any other sort of tasks that are easily handled by smartphone or tablet apps, such as keeping track of Twitter or Facebook updates, reading news feeds, or performing quick functions on a calculator.
You can really extend your laptop screen real estate with a tablet by turning it into a second monitor that you can drag windows onto.
For instance, Air Display for the iPad ($10) works with both Windows and Mac PCs wirelessly. An option for Android tablet users is ScreenSlider ($1, Windows only). For both apps, you'll need to install software on your laptop to connect the tablet to it. The possibilities are pretty great (for example, you can use your tablet's touch capabilities for painting in Photoshop or sign your name on a PDF form).
Tweak Programs to Maximize Screen Real Estate
Many programs have settings you can enable to make using them easier on a small screen. For example, in Microsoft Office, you can hide the ribbon. In your browser, you can customize the font size or the default page zoom so that teeny tiny text doesn't strain your eyes. You'll find ways to adjust the interface better in the settings of many programs.
If you use the bookmarks bar on your browser, one clever space-saving trick is to edit the bookmarks to delete the site titles. You'll just see the icons and can fit in a lot more sites.
Are websites you use formatted poorly for your small display (for example, fixed into layouts that are too wide)? Try Readability, a Web app and mobile app that declutters Web pages and also lets you save them for reading later.
Learn Shortcuts to Quickly Access and Hide What You Need
Finally, keyboard shortcuts can help you quickly get to the windows and programs you need–and put them away when you have to focus on something else.
To minimize all the windows except the active one, press Win + Home. Press that combination again, and all the windows get restored.
Close all the windows at once with Win + D so you can get to shortcuts on the desktop.
You can quickly preview and select a different open application to use with Alt + Tab, but an even better shortcut for smaller screens is Win + Tab (available in Windows 7). Win + Tab shows you a bigger view of the open windows.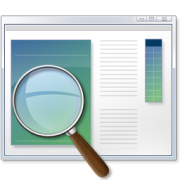 Pressing Win and the plus sign (Win and +) opens up Windows' Magnifier Tool for fast zooming in and out of any window. (To adjust the magnifying size or get out of the Magnifier Tool, click the magnifying glass icon that will appear in the upper left-hand corner of your program.)
You can also create your own keyboard shortcuts to quick-launch your favorite folders and applications by going to the folder's or program's properties (right-click on the folder or application shortcut) and entering your own key combination in the "Shortcut key" field.
In short, you don't have to have a multimonitor setup to get the most out of your PC. There are lots of ways you can maximize your productivity–even on a small screen.
Follow Melanie Pinola (@melaniepinola) and Today@PCWorld on Twitter