It's been more than a week since NASA's Mars rover, dubbed "Curiosity," landed on the red planet. In that time, mission controllers at the agency's Jet Propulsion Laboratory (JPL) in Pasadena, Calif., have been checking Curiosity's 10 instruments and updating software for its two-year mission to look for evidence of microbial life on the planet. NASA held a news conference Tuesday to talk about Curiosity's progress so far.
Incredible Photos
Mars mission leaders showed magnificent images that have come in from Curiosity so far.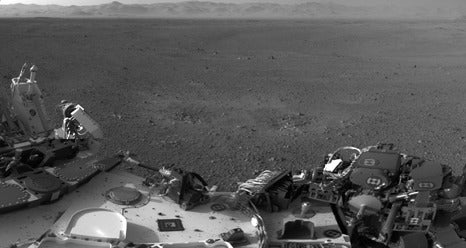 For instance, in this photo taken from one of the Rover's navigation cameras, you can see part of Curiosity's deck and power supply on the left, as well as both its low-gain and high-gain antennas which allow for communications between Curiosity, orbiting spacecraft and Earth. Farther out you can see the rim of Gale Crater. On the right, close to the rover, NASA says you can see where the descent stage's rocket engines blasted the ground before it disengaged and flew off to a crash landing.
If you were actually standing on Mars looking at this scene it would appear much different, NASA says. The sky there is red, and the dusty air and surface would make the view seem much blander. To make it easier for scientists to know what they're looking at, NASA has "white balanced" the colors to mimic what the rover would see if it were illuminated with Earth sunlight.
Next Steps
Over the next few days more images will come in from Curiosity, including better ones of Mount Sharp, which is where the rover is ultimately headed. According to Mars Mission Manager Mike Watkins, the panoramic images the rover has captured so far haven't shown a full sweep of Mount Sharp because, imaging sequences were pre-planned.
"We couldn't be sure that it would be safe to point [cameras] at the sun," Watkins said.
Starting today, weather instruments will start taking 24-hour measurements, although, because of the winds in the crater, it will take a while to sort it out the data.
In a couple of days NASA will begin testing steering actuators and will take Curiosity out for a short first drive–probably only about a few meters.
While NASA had already used data from the HIRISE (High Resolution Imaging Science Experiment) camera on NASA's Mars Reconnaissance Orbiter to identify about a half dozen of the best routes to Mount Sharp, now that the rover is on the ground it will be easier to determine which of those routes will be the safest to traverse in terms of rock size, sand depth, and inclines.
While Curiosity is capable of climbing rocks about a meter high and terrain that's sloped up to 50 degrees, Watkins said they will try to avoid going over high rocks or traveling on slopes angled more than 10 degrees.
NASA said it has commissioned all of Curiosity's instruments except the arm and drill, which will be done in about a week. After that, it will check out the arm joints—essentially doing some wake-up exercises–and even some drilling. So while "final characterization" is probably a month away, NASA says after next week Curiosity will have a lot of capability.
Getting to Mount Sharp, where Curiosity will be doing the bulk of its work, will take some time.
NASA says even though Curiosity's main goal is to study the lower sedimentary layers of Mount Sharp, it's important to understand the context around the area and, as such, will take two or three samples along the way there. Each time the Rover performs sampling it means a few weeks of activity in terms of finding the sample, deploying the arm, acquiring the sample and processing it in the lab.
Curiosity also has to contend with distance constraints. While Mount Sharp is only about 8km away from Curiosity's landing site as the crow flies, NASA says the rover will actually travel a few kilometers more because it will have to drive around obstacles.
The rover can only travel about 100 yards, or the length of a football field, each day. That means it will take around 100 days for the rover to get to Mount Sharp, sampling stops notwithstanding.
High Tech Avionics Were a Big Challenge
Curiosity got a "brain transplant" this weekend in which it received a new version of flight software that's better suited for working on the surface of Mars, such as driving and using Curiosity's powerful robotic arm and drill. It also gives the rover better image processing ability so it can avoid obstacles while driving as well as go on longer drives.
"I like to think of it as an intellectual upgrade, since the brain remains the same," said Avionics Systems Lead Jim Donaldson, who spent several minutes giving a jargon-filled description of what Curiosity's avionics do.
While no doubt an overgeneralization for a complicated piece of technology such as Curiosity, the avionics basically provide interfaces to instruments, radios, motors, and sensors. One of the biggest challenges engineers had to tackle, Donaldson said, involved "the scalability of existing design practices."
Translation: The Mars mission involves technology that is more complex than any other NASA has used.
How to Keep up with Curiosity
NASA has dedicated an entire section of its website to its Mars mission and really everything you'd want to know about it is right there.
Otherwise, PCWorld's Ian Paul has put together a thorough guide on how to track the Mars rover using a plethora of online tools. Check out Mars Rover Curiosity: A Complete Guide to Tagging Along Online.
Follow Christina on Twitter and Google+ for even more tech news and commentary and followToday@PCWorld on Twitter, too.