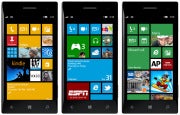 Microsoft has decided to stop publishing new apps for Windows Phone on Marketplace, while it addresses an issue that led to users experiencing problems with application downloads this week, the company said in blog post on Tuesday.
The problem is related to an issue with the digital certificates that are used to sign apps. It has prevented users of phones that upgraded to Windows Phone 7.5, from an earlier version of the operating system, from installing or updating some apps during the last couple of days, according to the blog post.
Affected applications include the New York Times app, WhatsApp, and Translator from Bing — all of which recently issued new updates, according to the blog post. In total, Microsoft estimates that only a small percentage of the more than 100,000 apps in Marketplace are affected.
To address the issue, Microsoft is planning to roll out a fix, and until that has been done it won't allow developers to publish new apps in Marketplace. The company didn't provide any details on when the fix will be ready, only saying that it's working as quickly as possible.
Microsoft's recommendation to users is to just wait. Uninstalling apps is not recommended, since users likely won't be able to download them again until the issue is resolved, according to the blog post.
The news comes as Microsoft has been working to make life easier for developers. Last week, the company launched Windows Phone Dev Center, a new portal for smartphone developers that promises better performance and ease of use along with more markets and support for PayPal.
Send news tips and comments to mikael_ricknas@idg.com