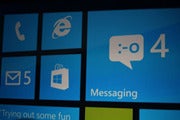 Another report has surfaced claiming that we may get our first glimpse at a new Nokia Lumia smartphone powered by Windows Phone 8 software in just three weeks. The purported Lumia launch would be one week before Apple is expected to launch the next iPhone. Nokia chief Stephen Elop recently said that a new Windows 8 smartphone would debut in the "relatively near term," but fell short of confirming or denying a new Lumia was coming in early September, according to Reuters.
The phone maker is scheduled to hold a Nokia World event Sept. 5 and 6 in Helsinki focused primarily on the company's "operator and retail partners." The event would be a perfect time to unveil a new Lumia lineup to get its business partners interested in upcoming devices and plan strategies for pushing the phones at the retail level. Bloomberg in early August first reported that Nokia planned to unveil new Windows Phone 8 handsets during Nokia World.
The iPhone Cometh
If Nokia does launch a new Lumia device during Nokia World, it would come about a week before Apple is expected to launch the next iPhone.
The purported new Apple smartphone would run iOS 6, a new version of the mobile OS due out in the fall, and may feature a 4-inch display with a fifth row of home screen icons. The device could also come with near-field communication and a smaller dock connector.
There's no word yet on what Nokia's new Windows Phone 8 handsets would look like or what hardware features they might have. But based on what's coming to Windows Phone 8 we can guess the devices would have a quad-core processor, NFC, and an SD card slot for removable storage.
Microsoft in June said that Windows Phone 8 would launch in the fall.
Connect with Ian Paul (@ianpaul) on Twitter and Google+, and with Today@PCWorld on Twitter for the latest tech news and analysis.