A business can live or die based on how well it handles projects.
For example, a new marketing campaign can create a flood of new business, or it can waste a ton of time and money with nothing to show for it.
The question is, how do you steer the ship so all your projects sail smoothly? What do successful project managers know that you don't?
One book that promises some answers is "Mastering the Leadership Role in Project Management: Practices That Deliver Remarkable Results," by Dr. Alexander Laufer.
It has a list price of $49.99, and Amazon sells the hardcover edition for $35.98. However, if you own a Kindle or a device that can run a Kindle app, you can, for a very limited time, get the e-book edition for free.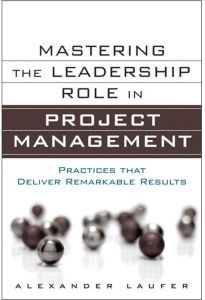 Laufer, a chaired professor of civil engineering at the Technion-Israel Institute of Technology, presents eight chapter-length case studies covering a variety of challenging projects across a wide spectrum of businesses.
Laufer "demonstrates both how to become a great project leader and how to lead your teams in applying the specific project practices that impact success. Laufer and his extraordinary team of contributors focus on 'take-home practices' you can use right away, whether you're planning a new project or revitalizing a project that's already in trouble."
The book is definitely aimed at project leaders, though I suspect that anyone involved in any aspect of project management would benefit from the information presented here.
It's interesting to note that "Mastering the Leadership Role in Project Management" has 11 user reviews, and every single one rates it five stars. That's rare for any book, let alone one dealing with business.
I'm not sure how long Amazon plans to offer this for free. Could be a couple more days, could be just a few hours. Whatever the case, if you want to become a master of project management but don't want to spend upwards of $50 for the privilege, grab this while you can.