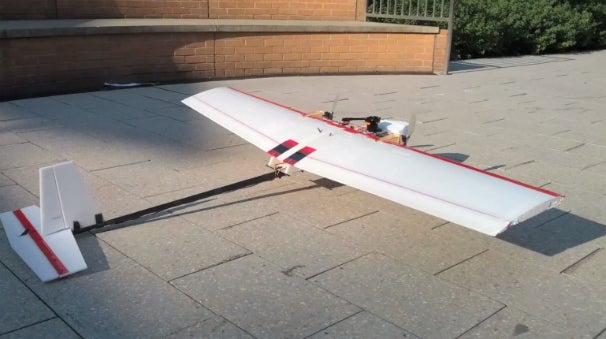 We've seen quadrocopters do some pretty awesome indoor maneuvers, from swarming to playing a piano symphony. But what we really want to see is a full-fledged airplane whipping around the inside of a building.
MIT's Robust Robotics Group is taking steps toward making this a reality with an autonomous UAV that can fly around in a tight parking lot. To accomplish this feat, the MIT scientists developed a short winged, laser-equipped brainiac UAV that can understand where it is and how to avoid obstacles all on its own.
MIT professor Mark Drela developed the UAV with a short 2-meter wingspan so that it could maneuver quickly in enclosed spaces. More importantly, the small airframe packs the same computational power as a netbook, with an Intel Atom processor inside.
It needs all this processing power to run a state-estimation algorithm in conjunction with a set of lasers, accelerometers, and gyroscopes. With these combined technologies ,the UAV is able to figure out its own orientation (i.e. pitch, roll, and yaw) and velocity, as well as 15 other in-flight factors without a GPS signal. At the same time, the UAV constantly runs an algorithm that it uses to avoid obstacles it comes across on the fly.
So far, the MIT scientists have run a preliminary test of the system aided by a preloaded map. The UAV successfully flew for a total of three miles, at 22 miles per hour through the parking garage under MIT's Seuss-y Stata Center.
The MIT researchers' next step will be to build an algorithm that allows their UAV to build a map of its surroundings on the fly.
[MIT News via Popular Science]
Like this? You might also enjoy…
Get more GeekTech: Twitter – Facebook – RSS | Tip us off | Follow Kevin Lee