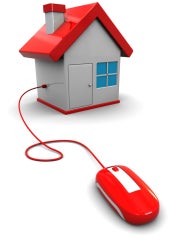 People have long viewed home automation—the ability to monitor, program, and control your home's lighting and entry locks, its heating and air conditioning, and other systems—as a technology that's "just around the corner." The Home of Tomorrow has been a fixture at state fairs, industry trade shows, and Disneyland; but for years it remained always a little out of reach, except for those people who could afford to invest tens of thousands of dollars to hire a professional to install a custom system.
Well, consider that corner turned. Home automation is finally becoming both affordable and simple enough for a do-it-yourselfer to install and set up. In this series, I'll cover everything you need to know to turn your own home into the home of the future, and I'll specify how much each device will cost (using street pricing, unless otherwise noted).
If you've never delved into home automation, I recommend starting with lighting control, not only because it delivers the most "wow," but because it can enhance your home's security and reduce your energy consumption. The wow factor comes into play when you can control the lights in any room in your home by using a remote control. Your home's security is enhanced when you can program your lights to come on automatically at various times while you're away to give it a convincing "somebody's home" look. And you can reduce your energy consumption by ensuring that lights turn off automatically when you don't need them.
A number of manufacturers are building lighting controls with radio frequency (RF) technology these days, but I'll concentrate on two of the biggest players: GE Jasco and Leviton. You can find their products in home-improvement stores such as Home Depot and Lowe's, as well as on Amazon.com. As you expand your home-automation system, your lighting controls—the dimmers, switches, and receptacles, at least—will stay put; but you'll likely replace the master controller at the heart of your system when you want to control more than just lights.
The fun really starts when you pull all of the subsystems together and add a controller so that you can manage the system from your PC, tablet, or smartphone over the Web. When you open a door to a fully automated home (without having to pull out your keys), interior lights automatically turn on to illuminate your path. When you turn on the TV, the lights in your home theater automatically dim. When you leave the house in the morning, your thermostat automatically adjusts so that you won't waste money heating or cooling an empty house. And that's just scratching the surface of what's possible.
Future installments in this series will cover keyless entry systems, thermostats, advanced master controllers, all-in-one starter kits, and more.
Control Your Lighting Without Having to Deal With Wiring
If you don't want to fool around with your home's wiring—whether because you're an apartment dweller or because you don't want to worry about getting shocked—buy a plug-in module such as the GE Jasco Lighting Control & Appliance Module or Dimmer Module (model 45602 and model 45603, respectively; $45 each), the Leviton Vizia RF+ Plug-in Appliance Module ($65), or the Leviton Vizia+ Plug-in Lamp Dimming Module ($70).
Be sure to buy a dimmer module if you want to control the level of light that your lamp puts out. Appliance modules are simple on/off devices; they're designed to control things such as coffeepots and fluorescent lighting. The modules mentioned above are designed for simple two-prong plugs, but you can also find heavier-duty models that are compatible with appliances that draw more current, as well as modules designed for outdoor use (if you'd like to control a water fountain, for instance).
The lamp and appliance modules aren't very useful on their own, so you'll need to buy a controller that you can program to manage them. Controllers range in price from less than $50 to more than $300, with the higher-priced models being more robust (capable of controlling more devices and a wider range of devices) and easier to program (because you can connect them to a computer).
If you just want to dabble in home control, and you're starting out with lighting, a device such as the GE Jasco Wireless Lighting Control Advanced Remote ($40) or the Leviton RZCPG-SG Vizia-RF Remote Control Programmer/Timer ($139) should do nicely. These devices work just like your TV remote, except that they turn your lights on and off, dim your lights to preset levels, and can be programmed to control your lights according to a specified schedule. I'll cover more-sophisticated controllers in a future installment of this series.
Next Page: In-Wall Switches, Dimmers, and Receptacles
In-Wall Switches, Dimmers, and Receptacles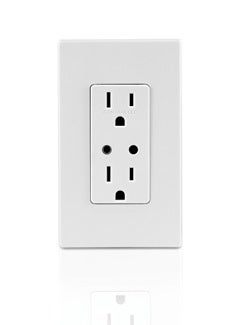 If you hate wall warts, you won't like the look of the plug-in modules. They're big, bulky, and impossible to overlook unless your receptacle of choice sits obscured by curtains or lurks behind a piece of furniture. If you don't mind dealing with electrical wiring—be sure to turn off the circuit breaker first—you can replace either the receptacle or the switch or dimmer that controls the receptacle. A GE Jasco Duplex Receptacle (model number 45605) costs $39, while Leviton's Vizia RF+ Scene Capable Receptacle (model number VRR15-1LZ) costs $96. In both cases you can control one outlet remotely while the other functions as a normal outlet.
Unlike the plug-in modules, however, no receptacles that I know of are capable of dimming a lamp. If you already have a conventional dimmer in the wall, you'll want to replace it with a programmable dimmer, such as the GE Jasco model number 45612 ($50) or the Leviton Vizia RF+ VRI06-1LZ ($78). If you need to control fluorescent lighting or a ceiling fan, you must use a switch. The GE Jasco Wireless On/Off Switch (model number 45609, $49) and the Leviton Vizia RF+ (model number VRS15-1LZ, $80) are among your best choices.
Here's one more thing you should be aware of: If you're replacing a three-way dimmer or a three-way switch with either a GE Jasco model or a Leviton RF+ product, you'll need to buy a kit including a second switch that you must install at the other end(s) of the three-way configuration. (If you have a lamp or outlet controlled by more than one dimmer or switch, you have a three-way lighting control.)
Mood Lighting and Scene Control
Both GE Jasco and Leviton sell in-wall controllers that can manage compatible switches and dimmers in other rooms. They also offer in-wall devices that can create lighting "scenes." Let's say you're having a party, and you want the light over your pool table on full, the lights in the hallways dimmed to 50 percent, and the lights in the living room dimmed to 75 percent. Either of the aforementioned remote controls could handle this arrangement, or you could install an in-wall scene controller.
With the GE Jasco Keypad Controller (model 45631, $50), you can create four scenes using four groups of lights. And since the controller runs on a pair of coin batteries and sticks to your wall with double-sided tape, you don't need to run electrical wiring or cut a hole in your wall. Leviton manufactures a wide range of in-wall controllers that are much more sophisticated than GE's product, but they must be hardwired to your electrical system. You can install Leviton's 4-Button Scene Controller (model VRCS4-MRZ, $170) in place of any ordinary switch. In addition to controlling the local load (that is, whatever device was connected to the old switch), it can wirelessly control lights (on/off/dim/bright) in four different zones.
Leviton's 4-Button Zone Controller (model number VRCZ4-MRZ, $170) is slightly different. Like the Scene Controller, it replaces any other switch, but its four buttons turn lights on and off in other rooms. I have several of these in my home, and I wouldn't be able to live without them. When I'm watching a movie in my home theater and I decide that I'd like some popcorn, I can push a button that turns on a light in my kitchen so that I won't stumble around in the dark. I also have a controller in my master bedroom with a button programmed to turn on several lights—including all the outdoor lights—if I hear a bump in the night. Both Leviton controllers have built-in infrared receivers, too, so you can control them from afar via an infrared remote.
Since the GE Jasco and Leviton products rely on the same Z-Wave control technology, you can mix and match them and use them together in the same home. Leviton, however, has introduced some proprietary extensions that add special functions to its lighting controls. The most important of these features is the ability of each device to report on its status to all of the other Leviton devices in the system. A controller that recognizes Leviton's extensions can report on which devices are on and which are off, provided that those devices are controlled by Leviton dimmers or switches.
You've probably noticed that most of Leviton's products are pricier than GE Jasco's; some are considerably more expensive. Features such as Leviton's extensions, as well as the infrared receiver built into Leviton's scene and zone controllers, are the reason why. Leviton also provides preprinted buttons for identifying lighting scenes and zones (many of which ultimately go to waste, since they cover many more scenarios than any one home could ever use), and I like the horizontal button on Leviton's dimmers and ceiling-fan controllers that lets me program a specific level that the dimmer or switch automatically remembers. I've also found Leviton's products to be more ruggedly manufactured than GE Jasco's.
In the next installment of this series, I'll cover a number of programmable thermostats. In the meantime, please let me know what you think of home control in the comments section below.