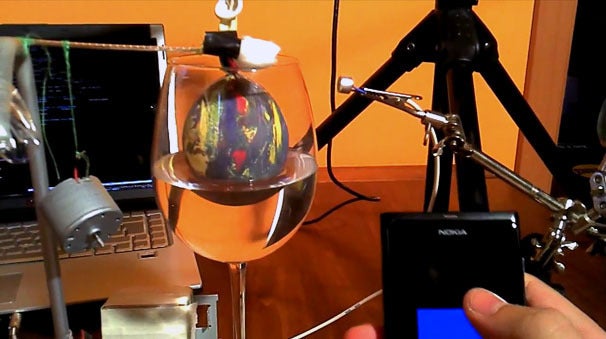 Everyone at some point in their lives has tried to make sweet music with the wine glasses on the table while at a restaurant. Not many could make beautiful sounds from their attempts; even fewer could do it to a professional standard. Of course, if you're a geek, you know that clever use of motors could make a difficult task easy.
Igor Brkić made a special glass harp rig that's controlled by a phone app: The project consists of a wine glass filled with water, a motor, a servo, and a balloon. It works by lowering the balloon into the water; the pitch changes depending on how far into the water the balloon goes..
The servo lifts the balloon, with the help of a Teensy board (a similar board to Arduino) that controls the mechanism. The Teensy board connects to the phone app that will send an OSC (open sound control) message to a laptop over Wi-Fi. Finally, the laptop sends the command to the Teensy board.
The motorized spinning board that helps create the sound is made out of wet cotton, old printer parts, and a platter from a hard drive.
Despite the various connections a command needs to go through, the result is a creepy tune. It's still impressive, though, and saves you from wetting your finger and furiously spinning it around a glass.
[Hyper Glitch via Hack a Day Forums]
Like this? You might also enjoy…
Get more GeekTech: Twitter – Facebook – RSS | Tip us off | Follow Elizabeth Fish