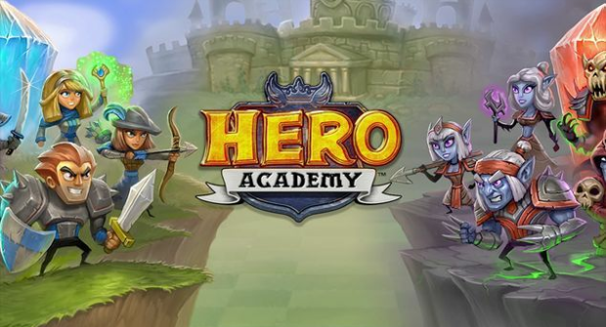 Robot Entertainment's Hero Academy is a cross platform turn-based strategy game that (much like chess) is simple to pick up and difficult to master.
The iOS version came out back in January and was very well received by consumers and reviewers alike, for good reason: it's addicting, and the fact that it's on your phone makes it impossible to put down. Also, it's free (though you can pay to unlock extra features).
The free version gives you one team (The Council) with the option to purchase more teams at a price. Currently there are 3 other teams you may buy, all with their own unique abilities and units.
But I digress. The game became relevant again when it launched last week on the PC via Steam. This time around you can purchase the base game for $5 which will unlock two teams, The Council and the Team Fortress 2 team (which can only be unlocked via Steam, though after you purchase the game on PC you can use the TF2 team on your iOS device). You also get a Hero Academy ninja cowl hat for Team Fortress 2, and the Team Fortress 2 team is a fun, diverse group of units.
Gameplay
The game can be thought of as a cross between a strategy card game and chess. You start with 6 random pieces from your team, which can be units, power-ups, equipment or spells. You then have five actions to play. Placing something from your "hand" to the board (i.e. placing a unit, using a power-up, etc) costs one action as does movement, attacking and any ability a unit may possess. Each opponent takes turns using their five actions to fight, defend or cause some mayhem.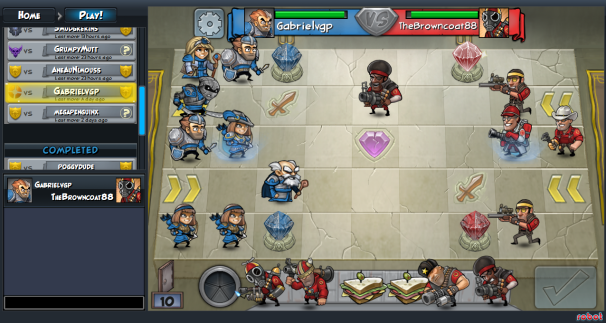 The maps vary with each match, containing their own power-ups and obstacles. Some tiles will grant whoever stands on top an attack or defense bonus and some tiles may activate a trap, such as a train coming through to damage everything in its path. On either end of the map there are one to three crystals which becomes a focal point to the players. If you manage to destroy all the enemy crystals, you win the game. Some units are better at assaulting the crystals, while others may barely leave a mark. There are also tiles that will increase the damage done to crystals if you stand on them. The game is all about finding the perfect position with the pefect units, so the map becomes an ally–or enemy–itself.
The game continues, each player taking their turns of five actions, until either a player's entire team is defeated or their crystals are destroyed. Once the game is over, the winning team will do their victory dance, which is just a fun and insulting way to end your game (and inspire a rematch).
There are also a list of single-player challenges for each team that train you on their specific strengths so that you put your best strategic foot forward when fighting another player. These are a great way to try out some of the other teams before purchasing them. Get a feel for their mechanics and strategy, and see if it matches up to how you like to play.
There are a few ways to find an opponent. You may search by a specific username, search out a random opponent, choose from your Steam friends list (it will show those who own Hero Academy, and those who don't) as well as automatically sending out a message via your Twitter with a link to instantly set up a game. There is an added option for the iOS (missing from the Steam version) of adding in friends who have linked their Facebook account.
You may start up as many games as you would like, and if you enjoy the addicting quality of the game, waiting for your opponent to take a turn may be the most difficult part. After you submit a turn, you must wait for your opponent to take theirs, which could take minutes, hours or even days. After seven day of inactivity, the player forfeits. So far, I have over seven active games, and I'm restraining myself from starting more.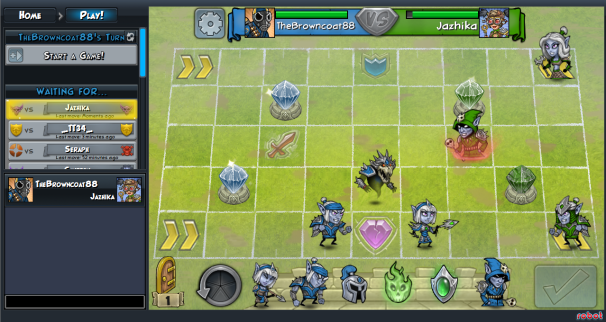 Pricing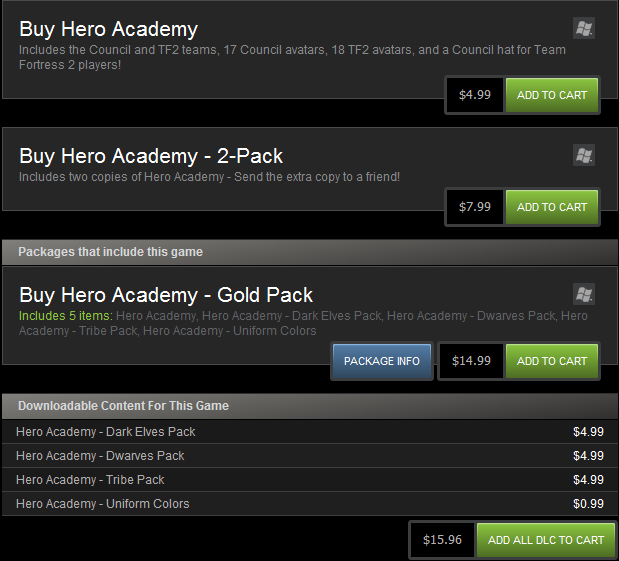 The pricing structure varies greatly between the iOS version and Steam version. While iOS is free to download and charges an extra $1.99 to unlock a new team, the Steam version costs $5 just to get the game and costs an additional $5 per team. A pro-tip: you share one account for Hero Academy between the iOS and Steam version, so if you purchase anything on one platform, it is available for the other. If you have an iOS device, and are interested in more teams, buy them for $1.99 apiece and use the $9 you saved to buy some lunch.
The game runs in a windowed mode, which can be a little unsettling for those with large monitors at even larger resolutions. A windowed mode is smart though, since you are normally only opening the game for a few minutes at a time. Instead of closing the game each time, it is easily minimized and an icon in the system tray will pop up if there is a game awaiting your turn. Luckily the game is very easy on your system resources.
Final Thoughts
The game is incredibly fun and addicting, certainly worth checking out. I just can't help feeling like the Steam users are being ripped off, though; it costs $15 to purchase all in-game content on Steam (you can buy a pack that includes the game and all teams and uniforms for $15) while the exact same thing costs around $6-$7 on iOS (though of course you don't get the Team Fortress 2 team). The fact that you can make a few moves on your computer then pick up where you leave off on your iOS device is a huge plus. It's cross-platform gaming at its best; it will be hard to beat the addiction.
Once you get it, challenge me (TheBrowncoat88) and get yourself some (likely) free wins.