At a Glance
Expert's Rating
Pros
Makes desktop Kepler graphics more affordable
Compact and power-efficient
Cons
GPU compute performance lower than the competition
Our Verdict
The new GTX 660, as EVGA envisions it, represents a seductive upgrade for users of older graphics cards.
Nvidia has been getting a lot of mileage out of the Kepler desktop GPU, using the chip in the GTX 670 and GTX 680 graphics cards, and bringing it back once again in the new GTX 660 Ti. Although the GTX 670 had one functional block disabled, the GTX 660 Ti cuts just a single key feature: one of the memory controller blocks. This design change reduces the data width to memory to 192 bits wide, in contrast to the 256-bit pathways available on the GTX 670 and GTX 680. Since the ROP (raster operations) unit is part of that block, the ROP units now number 24 instead of 32. The clock rate is a little lower as well.
Speeds and Feeds
Let's take a quick look at how the GTX 660 Ti differs from its pricier cousins. Note that the listed clock frequencies are for eVGA's GTX 660 Ti SC model, which is clocked slightly higher than Nvidia's reference card. Other shipping retail boards may differ in clock frequencies, depending on the design of the board and what each company wants to support. The target price for the base GTX 660 Ti is $299; the superclocked eVGA model we tested is priced at $310 (prices are as of August 16, 2012).
| | | | |
| --- | --- | --- | --- |
| Feature | eVGA GTX 660 Ti SC | GTX 670 | GTX 680 |
| Graphics cores | 1344 | 1344 | 1536 |
| Texture units | 112 | 112 | 128 |
| ROPs | 24 | 32 | 32 |
| Base clock frequency | 980MHz | 915MHz | 1006MHz |
| Boost clock frequency | 1059MHz | 980MHz | 1058MHz |
| Memory (frequency) | 2GB (1502MHz) | 2GB GDDR5 (1502 MHz) | 2GB GDDR5 (1502 MHz) |
| Memory interface | 192-bit | 256-bit | 256-bit |
| Transistor count | 3.5 billion | 3.5 billion | 3.5 billion |
| Display connectors | 2 x Dual Link DVI, 2 x HDMI 1.4a (Fast), 2 x DisplayPort 1.2 | 2 x Dual Link DVI, 2 x HDMI 1.4a (Fast), 2 x DisplayPort 1.2 | 2 x Dual Link DVI, 2 x HDMI 1.4a (Fast), 2 x DisplayPort 1.2 |
| Power connectors | 2 x 6-pin PCIe | 2 x 6-pin PCIe | 2 x 6-pin PCIe |
| Thermal design power (TDP) | 150W | 170W | 195W |
Those are the base specs in a nutshell. It's time to check out how our test board performed.
Performance
We collected performance data by using FutureMark's 3DMark 2011 and four DirectX 11 games: Crysis 2, Dirt Showdown, Metro 2033, and Batman: Arkham City. We ran the game tests at 1920-by-1200-pixel resolution with 4x multisampling antialiasing enabled. In addition, we measured system power, under idle and load, using a Watts Up Pro power meter. The system we used for testing carried a Core i7-3960X CPU running at 3.3GHz, as well as 12GB of DDR3 memory running at 1600MHz. The power supply, motherboard, and other hardware remained constant during the entire run; so too did the operating system, Windows 7 Ultimate 64-bit.
I compared the eVGA GTX 660 Ti SC's performance with that of AMD's similarly priced Radeon HD 7870 GHz Edition, in the form of the Asus HD 7870 DirectCU II. I didn't have time to rerun all the benchmarks with the older GTX 560 Ti, but initial testing indicates that the 660 Ti is definitely a step up in performance.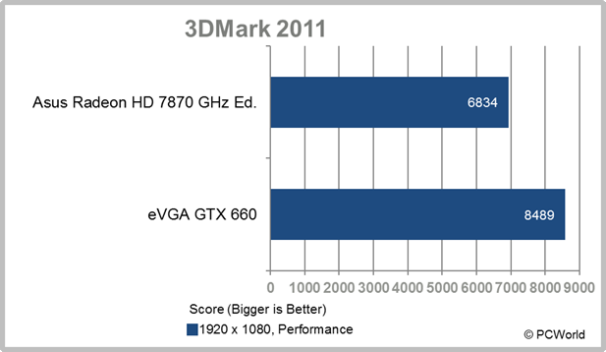 The eVGA card easily won the 3DMark 2011 synthetic test. Although 3DMark 2011 isn't comparable to actual games, it does test most DirectX 11 features.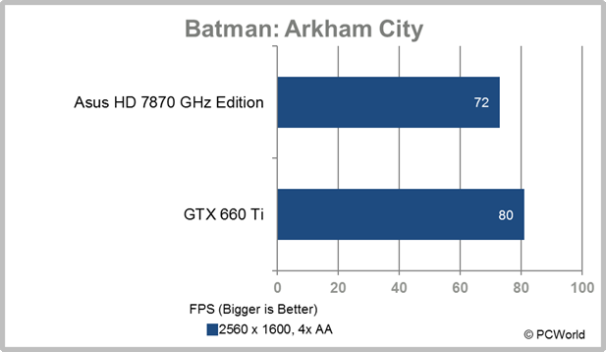 In Batman: Arkham City, the GTX 660 Ti won out over the Radeon by about 10 percent, which is a pretty substantial difference.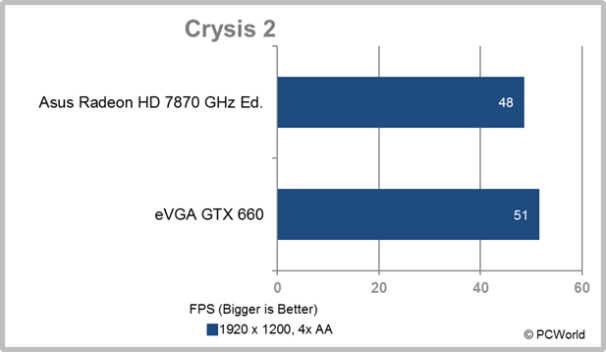 In Crysis 2, the difference in performance between the eVGA and Asus cards was smaller than in Arkham City, but still worth noting.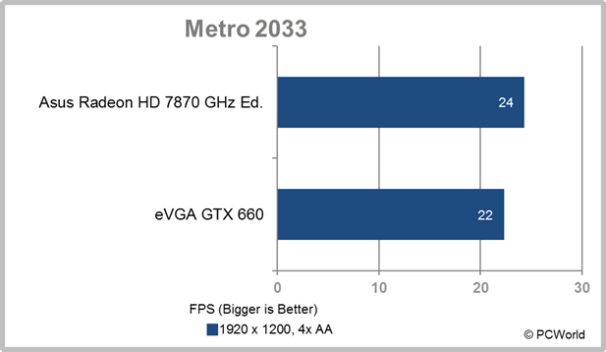 In the Metro 2033 test, the roles reversed slightly, with the GTX 660 Ti running just a bit slower than the Radeon HD 7870 GHz Edition.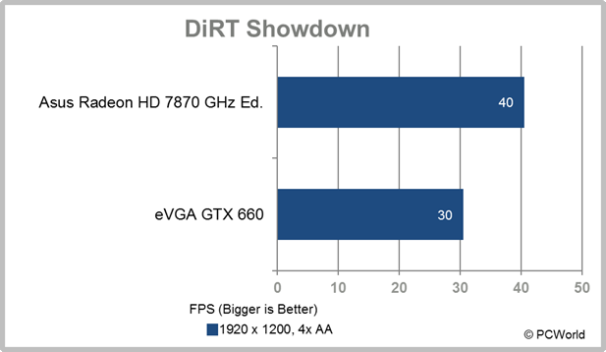 What gives? In this game the Asus Radeon card pulled out a big win over the GTX 660 Ti. However, in this case the difference is not purely attributable to a graphics issue. Dirt Showdown uses Microsoft's DirectCompute interface to perform some serious floating point calculations for two key features: global illumination and advanced lighting. The AMD GPU is substantially better at pure computation than the Nvidia chip is, which gives the AMD product an edge. Note that most games have yet to make heavy use of the GPU in general compute tasks, so it's unlikely you'll see big differences, and the GTX 660 Ti tends to perform better in games that don't make heavy use of GPU compute.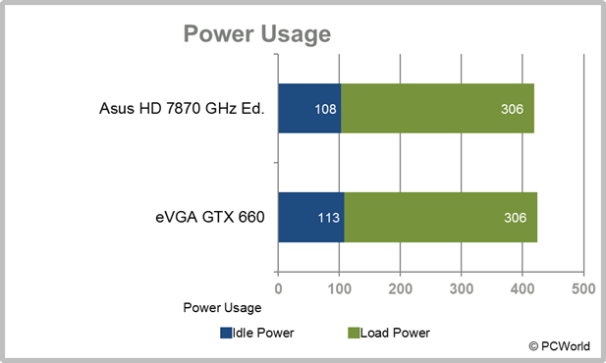 It's impressive how idle power usage has improved on all the current-generation cards. We saw little practical difference in power usage between these two cards.
Final Thoughts
Priced at $310, the eVGA GTX 660 Ti SC is aimed at gamers who want to get very good performance without spending $400 or more for a high-end card. Such users tend to hold on to their cards for two or three years, so they're probably upgrading from an older GTX 260 card. In those cases, the GTX 660 Ti offers reasonably substantial performance gains, as well as the ability to run DirectX 11 titles.
The card is surprisingly compact for its performance, and should fit in most midsize-tower cases—even those lacking the depth to handle more-robust cards. Power supply requirements should be modest, too: A good 500W PSU should do the trick.
The eVGA GTX 660 Ti is efficient and compact, and it offers very good performance at its price. If you're a serious PC gamer with a limited budget, and if you have been making do with a two-year-old card, it's time to think seriously about upgrading.