Microsoft tablets running its Windows RT operating system will be priced $200 to $300 below their siblings running Windows 8, according to an executive at the second largest personal computer maker in the world, Lenovo.
Devices with ARM processors running RT will be priced to tantalize consumers, while those based on Intel and AMD chips are expected to attract corporate buyers and sell for $600 to $700, Lenovo's head of North American operations David Schmoock told Bloomberg Thursday.
Schmoock's pricing estimates for RT tablets appear to contradict reports earlier in the week that the ARM-based slates will enter the market at $199.
If Intel-based Win 8 tablets sell for $600 to $700 and Win RT slates sell for $200 to $300 less, then Win RT units will be priced at around $400, about the same as a 16GB Wi-Fi iPad 2.
Microsoft reported to the U.S. Securities and Exchange Commission that it will release its Surface tablets on October 26, the same day it will officially pull the wraps off Windows 8.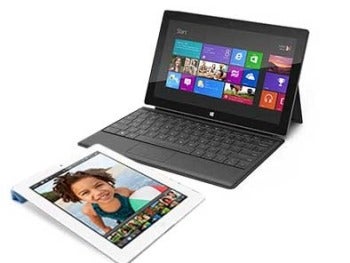 Surface tablets running RT won't be able to run applications written for the slates running Windows 8, and while they will be sold with a version of Microsoft's best-selling productivity suite, Office, the software won't be as robust as that found on the Intel slabs.
Earlier this week, Microsoft announced that Lenovo, Samsung, Dell, and Asus, which makes Google's Nexus 7 tablet, will ship RT tablets in the first quarter of 2013.
Noticeably absent from that announcement were computer makers Toshiba and Acer. Toshiba claims it has been unable to get the chips to produce an RT system in a timely way. Acer has been critical of Microsoft's decision to make its own branded Surface tablets and has even downgraded its sales expectations for the second half of this year based on what it sees as "the uncertainty of the Windows ecosystem."
In his interview with Bloomberg, Schmoock also discounted aggressive estimates by Intel that its Ultrabook platform will grab 40 percent of the notebook computer market this year. It will more likely be a 20 to 25 percent share, he predicts. While Ultrabook sales have been disappointing so far in 2012, declining prices and the introduction of Windows 8 is expected to boost year-end sales of the units.
Follow freelance technology writer John P. Mello Jr. and Today@PCWorld on Twitter.