At a Glance
Expert's Rating
Pros
Slim, stylish case
Good general application performance
Cons
Mediocre graphics and video playback performance
Too big to be a true Ultrabook
Our Verdict
The Canadian M5 performs better than its American counterpart in office and web applications, but has no discrete GPU. Video and gaming performance is sub-par.
Acer is bringing its non-Ultrabook Ultrabooks to Canada. The Acer Aspire TimelineUltra M5-581T-6446 is the Canadian version of Acer's M5 series. Except for the default installed memory, it's similar to the American M5-481T-6642. That American version costs $730 (USD), but it ships with only 4GB of DDR3; the Canadian counterpart includes 6GB. Like the other notebooks in the series, the M5-581T-6446 (henceforth called the M5) is only technically considered an Ultrabook—it may fit the specs, but it's just too big and too heavy for a reasonable person to consider it a true Ultrabook.
Our review model, which costs $799 (Canadian), sports a third-generation Intel Core i5-3317U processor, 6GB of RAM, and a 500GB hard drive with a 20GB SSD cache. Unlike the American counterpart we reviewed, the model 6666, which sports a discrete Nvidia graphics card, the Canadian M5 relies solely on Intel's integrated HD graphics. Other specs include a DVD-RW drive, 802.11n Wi-Fi, and a 64-bit version of Windows 7 Home Premium.
Performance
In PCWorld's WorldBench 7 benchmark tests, the M5 scores a very good 121 versus the baseline of 100—that is, it's 21 percent faster than our testing model. This is a better score than that of the American version of the Acer M5, which earned just 104 out of 100.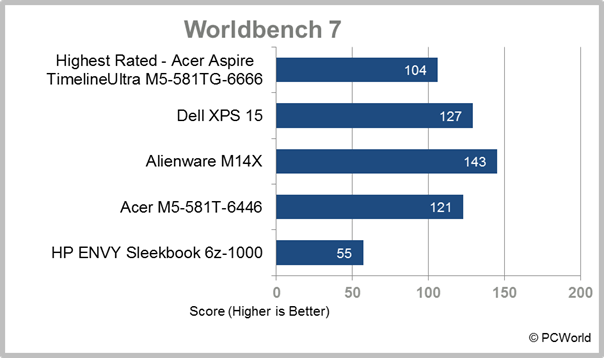 The M5 manages nicely in individual tests, as well. It starts up quickly, in just 16.8 seconds—the American M5 takes 17.5 seconds, while the Dell Inspiron 14z and the Dell XPS 15 take 22.5 and 33 seconds to start up, respectively. The M5 also performs adequately in the PCMark 7 office productivity tests, with a score of 2685 compared to the American M5's 1617. It's a little difficult to compare the M5 to other computers, since it fits somewhere in between categories (similarly sized all-purpose laptops are heftier and ultimately have higher productivity scores), but compared to the American M5, the Canadian M5 performs impressively. (Note: The chart below and others in this article include the Dell XPS 15, which hasn't been reviewed at this writing.)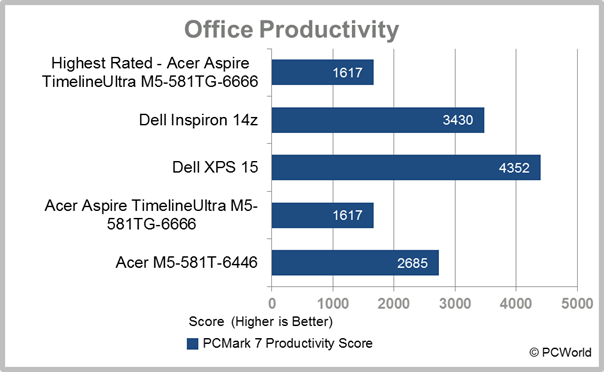 "Performs impressively" in general performance, that is. Graphics performance, on the other hand, is an entirely different story. The M5 relies on Intel's integrated HD graphics for video and gaming performance and, well, it shows. In our Crysis 2 graphics tests, the M5 pumped out frame rates of between 12.4 frames per second (high-quality settings, 1366 by 768 pixels) and 26.5 fps (low-quality settings, 800 by 600 pixels). By comparison, the American M5, with its discrete Nvidia GeForce GT 640M graphics card, managed frame rates of between 39.9 and 75.9 fps on the same test. As a gaming system, the Canadian M5 is not even in the same league.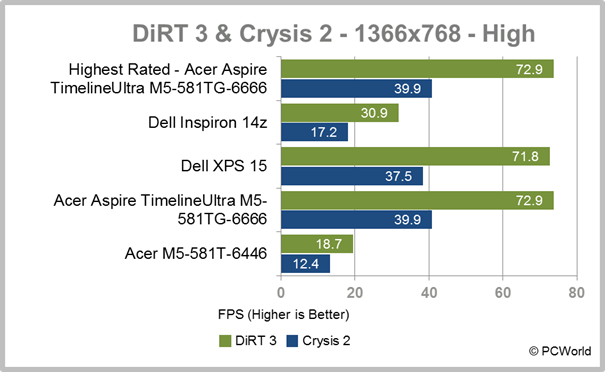 The Canadian M5, however, has excellent battery life: We managed to eke out 7 hours, 31 minutes in our tests. This is better than the other laptops in the category (which, on average, top out at 6.5 hours), and marginally better than the American M5, which managed 7 hours, 24 minutes in our tests.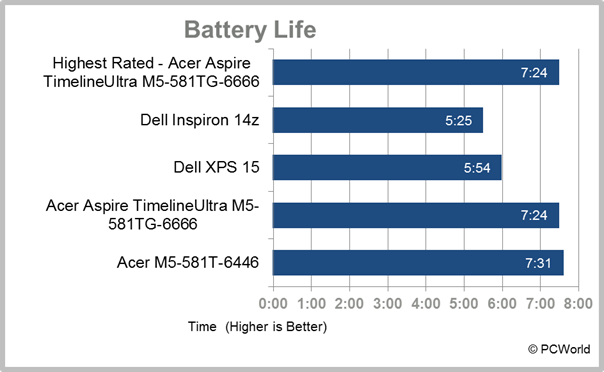 Design: Chassis, Keyboard, Trackpad
The M5 looks great for an all-purpose laptop, but as an Ultrabook it's a little too big and heavy. Although it's only 0.8 inch thick, it weighs 4.7 pounds sans accessories. This is rather heavy for a slim notebook, even a 15.6-inch one. Luckily it's got great battery life, so you probably won't have to tote the power brick (which weighs about 0.75 pound) very often.
Size and weight aside, the M5 is a great-looking ultraportable notebook. The laptop sports a slate-gray cover with an aluminum finish and a laser-etched silver Acer logo in the center. The screen is super slim, but the two hinges that hold it up are solid, so it doesn't shake or wobble at all when it's open. The M5's interior features the same brushed-aluminum styling on the keyboard deck, which holds only the keyboard and trackpad—the power button is on the front of the computer, near the right side.
Though the M5 is only a 15.6-inch notebook, Acer has managed to squeeze in a 10-key numeric keypad next to the full-size keyboard. Keys are backlit, island-style, and offer decent tactile feedback, but they're a little small and stiff and take some getting used to. The Return key is sort of awkwardly squashed next to the backslash key, which means your little finger has to travel a bit farther than usual.
Below the keyboard, and off-center, is a large trackpad. The trackpad has a matte texture, so it's easy to distinguish from the smooth wrist-rest. The trackpad is large and easy to use, but it's a little too far off-center for my taste—I feel as if I'm practically on the left side of the laptop. The pad has no discrete mouse buttons, and the lower half of the trackpad tips when you press the built-in buttons.
Because the M5 has a tray-loading DVD-RW player on its left side, most of its essential ports are located on the back. Here you'll find two USB3.0 ports, one USB2.0 port, an Ethernet port, HDMI-out, and a Kensington lock slot. Besides the optical drive, the left side houses just the power plug, and the right side has an SD/MMC/SDHC card slot and a combination microphone/headphone jack.
Screen and Speakers
The M5 sports a glossy 15.5-inch LCD screen with a native resolution of 1366 by 768 pixels. While this resolution is somewhat typical for budget laptops and Ultrabooks/ultraportables, it's disappointing on screens larger than 14 inches.
Pixel density aside, the M5's screen looks okay. Images look crisp, but text seems a little fuzzy, colors appear accurate, and the glossiness doesn't throw back too many reflections. The screen is not quite as bright as it needs to be if you want to use it outside in sunny weather, but it's okay for the average user. At brighter screen settings, colors can start to look washed out. Off-axis viewing angles are predictably bad, especially if you look at the screen from above or below.
Video plays pretty poorly on the M5. I saw a lot of artifacting and choppiness, which is unexpected given the robust video block in Intel's HD 4000 integrated GPU, and also also a lot of shimmering and pixilation, which is something I don't typically see. This happens in both streaming and nonstreaming clips, so it's not the clip quality or Internet connection.
Audio, on the other hand, sounds pretty good. The speakers are respectably loud, though not overwhelming, and offer up decently full sound. The speakers are on the bottom of the machine (under the front two corners), but did not sound muffled even when I sat the computer on my lap.
The Bottom Line
Most of our readers will never see the Acer M5-581T-6446, since it's sold only in Canada. That said, it's a pretty good laptop if you're looking for a larger, more solid Ultrabook-type model. The M5 has great battery life and excellent overall performance, but it lacks a discrete GPU and even its integrated graphics seem subpar. But if you're not too interested in graphics performance, this is a great, sleek laptop.