At a Glance
Expert's Rating
Pros
Fast startup, OneKey Recovery button
Perfect for student on a budget
Cons
Battery life is a little below average
Does poorly at gaming
Our Verdict
If you're looking for a laptop for back-to-school that's not too pricey, the Lenovo U410 is worth a close look.
Best Prices Today: IdeaPad U410
The Lenovo IdeaPad U410 incorporates some pretty cool ideas at a very cool price that won't break budgets ($799 as of August 8, 2012). But can a slender, budget-oriented laptop perform well? Let's see.
Specs and Performance
Our review model comes equipped with an Intel Core i5-3317U that runs at a standard 1.7GHz but kicks it up to 2.6GHz with Intel's Max Turbo Frequency technology when put under a heavy load. It also comes packed with 8GB of 1600MHz DDR3 RAM and an Nvidia GeForce 610M discrete graphics chip. It's great to see an all-purpose laptop equipped with something a little stronger than Intel's HD 4000 integrated graphics, even if it is a weaker mobile GPU.
The U410 managed a score of 117 on our strenuous Worldbench 7 benchmark suite. This puts it at about 17 percent faster than our baseline system, which is a fully equipped desktop. This is a nice upgrade from the Lenovo IdeaPad U310 we reviewed last month, also priced at $799. The U310 managed only a 94 on the benchmark and is missing some key features (certain components and screen size) that the U410 possesses.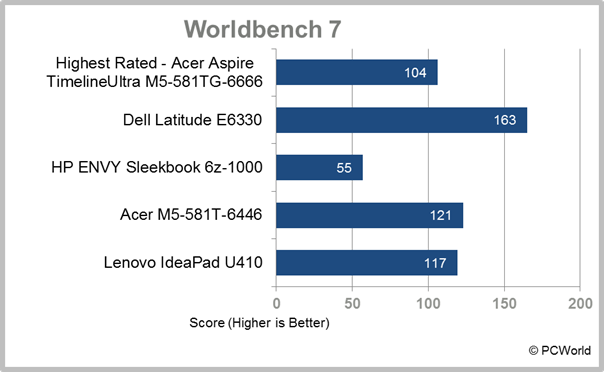 Despite the discrete card, the U410 didn't fare too well on our gaming/graphics tests. We ran DiRT 3 and Crysis 2 on high settings at a maximum resolution of 1366 by 768 pixels. It achieved an average of 23.7 frames per second on DiRT 3 and 13.8 fps on Crysis 2, a rate appearing closer to a slideshow than a game. This improves a little with the resolution lowered to 800 by 600 pixels and otherwise dialed down to low settings; DiRT 3 ran at an average of 76.6 fps and Crysis 2 at 38.4 fps. If you don't need it to look pretty or are happy with less graphically intensive games, you may be in luck here.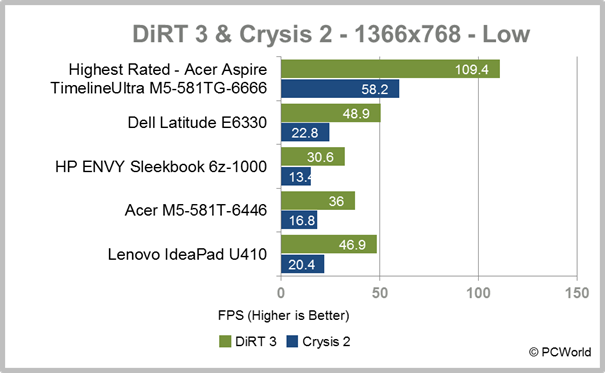 The U410 also includes a small solid-state drive to accompany a 500GB 5400-rpm drive as cache. Intel's Smart Response Technology is the company's way of giving hard drives SSD-like performance without the SSD price. By including a small drive that the user never sees (the user appears to see only one drive) the boot-up times, application processing, and file transferring all become significantly quicker.
Have no fear if you're impatient over start-up times. The U410 was ready to go in 20.6 seconds from a cold boot. Lenovo uses RapidBoot technology to use RAM as a cache for boot files, taking some of the load off the hard drive. This is a vast improvement over the previous U310 model, which took nearly 53 seconds.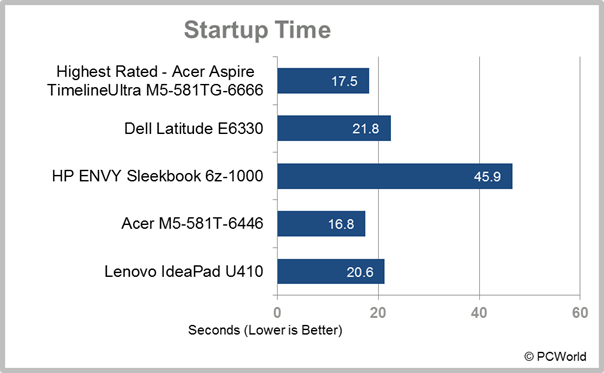 The U410's battery performance was just below average at 5 hours, 33 minutes. This may be enough to get through a full day of class or work, as long as the laptop is not in constant use. Unfortunately, you will probably have to keep your power adapter handy unless you use the battery sparingly.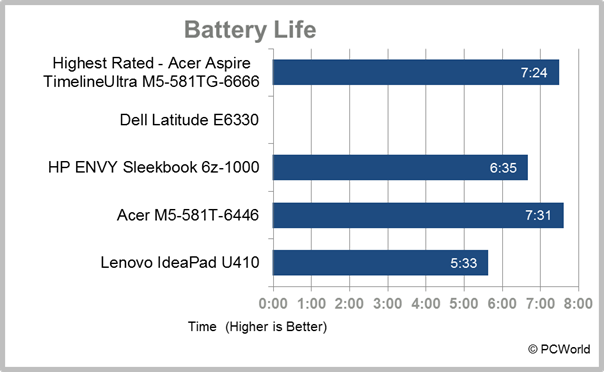 Usability
The U410 manages to stay petite even with some extra hardware thrown in. Without any accessories, it weighs only 4.1 pounds and is 13.5 inches wide by 9.3 inches deep by 1 inch high. It's certainly small enough to carry around in a backpack while leaving some free space.
A nice 14.1-inch LED backlit screen allows for easy Web browsing and movie watching, but be aware that in the wrong light or at an off-axis angle, the glare can get bad.
The keyboard is spacious and comfortable to type on—the keys are soft and responsive. The highlight is probably the multitouch touchpad that responds only to fingers. Nothing is more frustrating than typing out something important and lengthy, and having your palm move the cursor, rendering your hard work useless. The pad is also a lot larger than previous iterations and made of glass, so it's smooth and your fingers move easily across its surface.
The touchpad's support for multitouch gestures will be even more useful when Windows 8 launches in just a couple of months. For now, it is mostly used in Lenovo's Easy Notes, an application that works as a sticky pad for random thoughts and reminders. You use a combination of fingers and swipe gestures to open and close the program or change notes. It's not entirely intuitive, however, and you may find it a lot easier just to use the touchpad as a pointer; but better uses may emerge as more Windows 8 applications are released.
You get some say over the appearance of your system. Our review model came in Ruby Red, but you have a choice of Graphite Grey or Sapphire Blue as well. The aluminum body feels sturdy and protective, giving some peace of mind when packing it away.
The U410 provides just enough ports minimize complaints. It has two USB 3.0 ports, two USB 2.0 ports, an HDMI-out, an ethernet port, and a multicard reader (SSD/MMC). Something you won't find, but may not miss, is an optical drive. (With everything going digital, optical drives tend just to get in the way and add weight.)
Luckily, the U410 has some digital media benefits, including a front-facing 720p camera and microphone for video chatting. It also includes Dolby Home Theatre to customize the sound for different applications.
One more feature worth mentioning is Lenovo's OneKey Recovery button. It's a great way to restore a corrupted system back to its original state, safely and simply. No need to mess with bootable discs or USB keys, or to pull out the Windows 7 Home Premium disc; just hit the button, and it will boot right into the recovery program.
Last Thoughts
Lenovo's IdeaPad U410 does a good job of being useful in most situations, if you aren't looking to do some hardcore gaming or DVD/CD burning. It's hard to complain about the little things when this system shows such a vast improvement over the Lenovo ThinkPad U310 but manages to be the same price.
For students who must keep a budget in mind but aren't willing to sacrifice too much power in their laptop, this is probably the perfect option. If you're looking for a laptop for back-to-school that's not too pricey, the Lenovo U410 is worth a close look.
Best Prices Today: IdeaPad U410