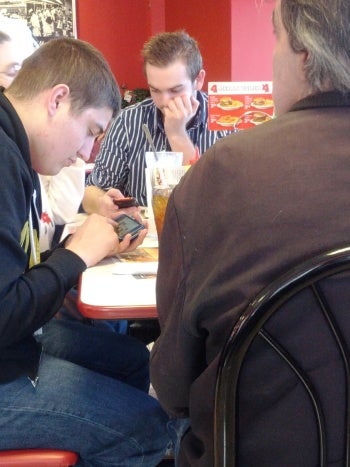 Mobile devices can distract drivers. That's a given. Well, now you can add distracted dining to your lexicon.
It's something you see more and more when eating out — people staring at and tapping on their phones instead of chatting with each other. A restaurant in Los Angeles is trying to do something to prevent it.
Eva Restaurant gives diners a 5 percent discount on their bill if they let go of their digital devices before being seated, according to The Los Angeles Times. Owner and chef Mark Gold says he hopes patrons focus on their food and not their phones.
Gold says about half of his customers have taken him up on the offer.
"For us, it's really not about people disrupting other guests. Eva is home, and we want to create that environment of home, and we want people to connect again," he told a local radio station. "It's about two people sitting together and just connecting, without the distraction of a phone, and we're trying to create an ambiance where you come in and really enjoy the experience and the food and the company."
While Gold's motivation might not be about removing an annoyance from the eating experience, seeing people attached to their smartphones at a restaurant can drive others around them crazy.
It turns out there's a good reason people get disturbed by the chatter around them in places like restaurants or other public spaces. Researchers at Cornell University found that hearing half of someone's conversation distracts people and can actually lower their cognitive ability. Apparently, people have a hard time ignoring what the researchers called a "halfalogue." They said it's because you can't predict the speech pattern of a halfalogue like you can with a monologue or two-way conversation.
Check out the popular PCWorld story on the subject: Mind Your Mobile Manners: Top 10 on-the-go Blunders.
Follow Christina on Twitter and Google+ for even more tech news and commentary and follow Today@PCWorld on Twitter, too.