At a Glance
Expert's Rating
Pros
Cleans up temporary files
Removes unnecessary startup items
Cons
Wanted to clean up necessary run-once items
Pushes other products
Our Verdict
Friendly Windows cleanup utility TechieBot can be useful, but gives advice that sounds like marketing hype.
TechieBot has a cute name that makes you think of Saturday morning cartoons. Appealing as it might be to say "TechieBot, quick now—and hurry!" in terms of effectiveness, this free Windows cleanup utility is a mixed bag.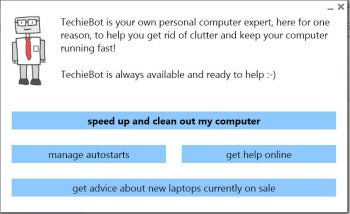 It performs some useful chores, but any program that tells you it's your personal computer expert then says you need to install Google Chrome and that now is the time to buy a new laptop raises a red flag.
Not that Chrome isn't a worthy browser, but there's one video downloading add-on that makes Firefox more of a draw for me. So, skip the Chrome advice. And if you just bought a new laptop like I did, skip that advice, too.
On the other hand, TechieBot will download the free Microsoft Security Essentials and install it for you—something I do recommend to most users.
TechieBot removes unnecessary startup items, but can be overzealous. It looked in the "run once" section of the registry and recommended that I disable a couple of uninstall cleanups before they had run. Had I let Techiebot do its thing, I would have been left with unwanted detritus on my system. Techiebot will also clean up various temporary files.
I'm not certain TechieBot is worth a look. It performs a few useful tasks, and the general advice is good, but software that recommends products makes me uncomfortable, even when the recommendations seem reasonable.
Note: The Download button takes you to the vendor's site, where you can download the latest version of the software.
—Jon L. Jacobi