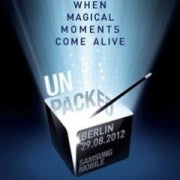 Samsung is hyping the upcoming launch of the second-generation Galaxy Note II phone/tablet hybrid on August 29. In a video posted on its YouTube channel, Samsung gives a glimpse at the new device, which will feature a stylus like its predecessor.
You won't get many details about the next Galaxy Note phone from the very brief teaser. It shows the phone will have a silver trim around the edge and a slot for the S-Pen stylus. Otherwise, the video features filmmaker Wim Wenders talking about "all the things" achieved using a "small and light thing" in "the blink of an eye."
Just because Samsung is keeping the lid on details about its upcoming phone, it doesn't mean early reports aren't accurate about what to expect from the Galaxy Note II. Reports suggest the phone will have a slightly larger display than the original Note, up to 5.5-inch from 5.3-inch, while the aspect ratio would change from 16:10 to 16:9.
Samsung is trying to differentiate its touch devices by incorporating a stylus, or the S-Pen, as the company calls it. The S-Pen is mainly aimed at taking notes, annotating files, and sketching out diagrams. The Galaxy Note 10.1 brought the stylus from the original Note to the big screen, and among the improvements noted by my colleague Melissa J. Perenson in her review, are increased pressure sensitivity and detection distance–improvements that you should expect in the second iteration of the Galaxy Note.
Although some might argue that a screen larger than 5 inches is too big for a phone, the initial success of the Note (more than 5 million sold) has prompted other manufacturers to develop their own phablets: LG is working on a 5-inch phone and HTC is said to be preparing a similar device.
Follow Daniel Ionescu and Today @ PCWorld on Twitter