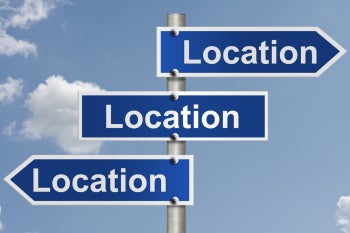 Location, location, location: it's vital in property sales (and late-night comedy monologues). And if you play your cards right, location-based social media services can help you spread awareness of your business and drive customers to your door.
The check-in feature at Facebook exemplifies location-based social media use at its simplest. When you check in on Facebook, you're just telling your Facebook Friends "Here I am!" Google+ and Yelp up the ante by encouraging users to leave reviews.
Other social networks are completely built around location-based services. They turn the process of checking in at various locations into a real-world game, complete with points, achievement badges, leaderboards, and the ability to win rewards and discounts at participating locations.
The biggest practitioner of gamified check-ins is Foursquare, but it has plenty of company. Scvngr, for example, puts a twist on the concept by asking users not only to visit specific places, but also to complete specific challenges.
When someone completes a task or checks into a location-based social network, the social network pushes that achievement to the person's friends and to anyone nearby. Gamified networks typically give users the option to post updates to Facebook as well, further extending the reach of the notification.
The Good News
Creating a location-based marketing campaign on a social network can cost next to nothing. You don't have to spend big bucks engaging a high-priced ad agency to develop a sophisticated advertising campaign. Setting up a check-in location or reward criteria on Foursquare or Scvngr is free, aside from the time and effort involved in getting it done. Once you've set up a location-based social offer, you don't need to do much to maintain it; the point is to have your customers spread the word and do the work for you.
The Bad News
Unfortunately, if your customers don't do the work for you, your location-based advertising campaign will fall flat on its face. Most businesses entice players into checking in by offering discounts or freebies (typically either buy one, get one free or buy one, get the second at a reduced price). This type of offer obviously takes money out of your pocket, but the increased sales volume might produce enough in profit to justify the expense.
But concrete numbers proving the effectiveness of actual location-based social network activities are hard to come by. For whatever reason, few businesses are willing to reveal how much business Foursquare and Facebook check-ins are driving to their door. The cost-to-benefit metrics aren't cut-and-dried, either.
Paul Ross, a vice president at analytics software provider Alteryx, told ReadWriteWeb that most businesses see only a 1 percent to 2 percent increase in sales for every 1000 Foursquare check-ins—but anecdotal evidence tells a different tale. HubSpot writes about a burger restaurant owner who used Foursquare specials to entice 161 users to his restaurant at once during a recent SXSW conference, and the owner of the Strange Brew Coffee House told the New York Times that his year-over-year business grew by 34 percent after investing in location-based social media marketing, at no additional cost aside from the 10 percent single-drink discount that owner Shane Reed offers to customers who check in.
Next page: Great ideas for location-based social marketing campaigns
Location-Based Social Marketing Campaign Ideas
Here are some marketing tactics you might use to attract social-network-connected customers to your business:
Give customers who simply check-in a small discount or a small reward—say, 5 to 10 percent off the regular price of a particular item. Consider offering a slightly larger reward to customers who leave a recommendation for your business on the network. Foursquare, Google+, Scvngr, and Yelp all encourage users to leave reviews after checking in at a location.
Offer bigger discounts when a large group of people checks in together. For example, you could take 15 percent off the restaurant tab when a group of five or more check in on a social network, or 1 percent off the bill for every person in a group of ten or more. You could also give everyone in the group a free nonalcoholic drink.
Offer specials for nearby wanderers. Some location-based social networks, such as Foursquare, let you create specials that appear only when someone checks in at a location nearby. You'll need to give something away—typically a discount or a buy-one/get-one-free deal—to entice foot traffic, but the offer could spark sales that you might have otherwise missed.
Create Scvngr challenges designed to stimulate sales. This works best for entertainment venues and restaurants, but it works for all types of organizations. If you're a restaurant owner with a big burger challenge, for example, you could issue a challenge on a social network and award discounts to diners who eat the entire meal in one sitting. Scvngr also lets you reward people who earn a certain number of points by doing specific things at a location. Get creative!
Not every reward needs to revolve around money. Rather than offering a discount, you could reserve choice parking spaces or prime tables for users who check in. Other possibilities include letting them skip lines, sample new products, or order from a special "check-in only" menu.
Promote your check-in specials through more-mainstream social media channels, such as Twitter and Facebook, to generate more awareness.
Foursquare has lots of customization options based on specific user criteria. The Friends and Swarm special options are intriguing, because they encourage several customers to check in simultaneously or over a relatively brief period of time. The network also offers a bevy of loyalty specials based on how many times a person has checked in at a particular location.
You can offer specials to first-time buyers, to people who have checked in a certain number of times, or to whoever becomes the "Mayor" of your business. In Foursquare parlance, the Mayor of a location is the person who has checked in there the most often in the previous 60 days. Showering your Mayors with bigger discounts is a great way to encourage other folks to come in more often in an effort to snag the top spot.
Has your business used location-based social networks to its advantage? How did it go? Was it cost effective, or did it wind up being a headache? Please share your experiences in the comments!
Brad Chacos is a freelance technology and business writer. His work has appeared in Laptop Magazine, the Intuit Small Business Blog, Maximum PC, and elsewhere.