At a Glance
Expert's Rating
Pros
Excellent gaming performance
Very good audio
Cons
No solid-state drive
Kinda heavy
Our Verdict
It may be twice as heavy as ultraportable laptops of similar size, but its gaming performance is twice as awesome.
When Dell refreshed its lineup of Alienware gaming laptops earlier this year, it discontinued the littlest of the bunch, the 11-inch Alienware M11x. As a result, the Alienware M14x is now the entry-level Alienware laptop, which Dell recently refreshed with an IvyBridge processor and a new graphics card. Like many more-typical ultraportable laptops, the M14x has a 14-inch screen, but it's chunkier and more powerful than the other computers in its category.
Our review unit, priced at $1454 (as of August 20, 2012), as configured, sports a third-generation Intel Core i7-3610QM processor, 8GB of RAM, a 750GB hard drive, and a discrete Nvidia GeForce GT 650M graphics card. The M14x also features a Killer Wireless-N a/g/n Wi-Fi card with Bluetooth 4.0, a DVD-RW drive, and Alienware's Command Center suite of software (including AlienFX, which allows you to change the lighting scheme). The M14x runs the 64-bit version of Windows 7 Home Premium.
Performance
In PCWorld's WorldBench 7 benchmark tests, the M14x earned a very good mark of 143, meaning that the M14x was 43 percent faster than our reference model, which carries a second-generation Intel i5-2500K processor, 8GB of RAM, and an Nvidia GeForce GTX 560 Ti graphics card.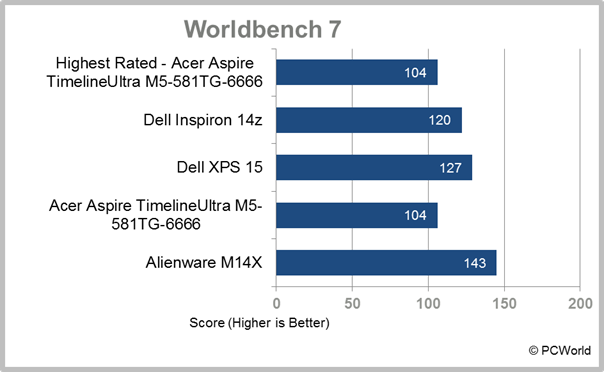 These days, competing ultraportables are speedier and more powerful than ever, despite being slim and light. For example, the Acer Aspire S5, a sleek 13.3-inch Ultrabook with a Core i7-3517U processor, rolled up a WorldBench 7 score of 195. However, the Aspire S5, like all Ultrabooks, comes with a speedy solid-state drive that helps it boot faster. In other words, the Aspire S5 boots up and resumes from sleep much more quickly than the M14x does (the S5's startup time in our tests was 12.3 seconds, versus 24.2 seconds for the M14x), but that doesn't mean the Aspire S5 is more powerful overall.
A better way to identify the M14x's computing strength is by assessing its gaming performance. In our Dirt 3 graphics tests, the M14x behaved like a true gaming machine, sustaining frame rates of between 82.8 frames per second (at high quality settings, and 1920-by-1080-pixel resolution) and 186.5 fps (at low quality settings, and 800-by-600-pixel resolution). The Aspire S5, in contrast, topped out at 19.1 fps and 44.5 fps, respectively, at the same settings. These numbers indicate that the M14x is a powerhouse.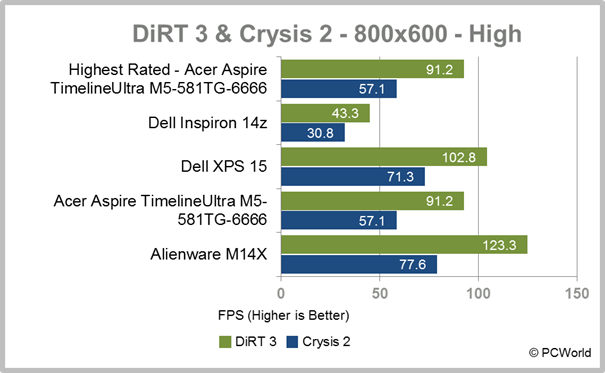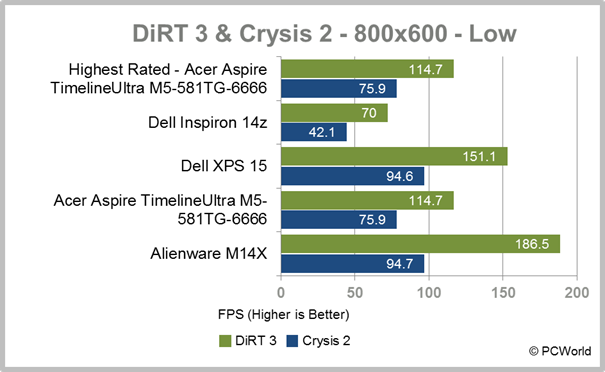 The M14x also has very good battery life, considering that it's a gaming machine at heart. In our tests the laptop managed 5 hours, 3 minutes of battery life—not far behind the Aspire S5's 5 hours, 28 minutes.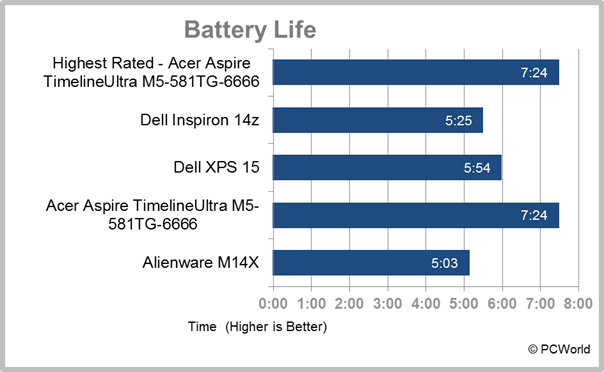 Design: Chassis, Keyboard, and Trackpad
Though the M14x's specs put it somewhere between an all-purpose laptop and an ultraportable laptop, it's much larger and thicker than an average ultraportable today. The M14x is 1.5 inches thick (whereas most ultraportables are about 0.5 inch thick) and it weighs 6.5 pounds, not counting a 1.3-pound power block. By way of perspective, the 0.7-inch thick Acer Aspire S5 weighs just 3.3 pounds including the power block.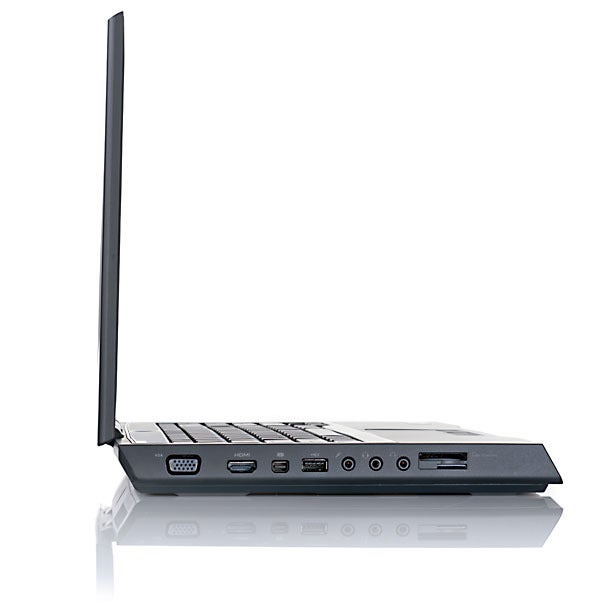 The M14x has the same retro-styling as other laptops in Dell's latest set of Alienware models, with a soft, rubbery black lid, a sturdy chassis, and a unique grille on the front of the machine. The laptop telegraphs its gaming orientation with tons of changeable lights on the keyboard, around the trackpad, through the grille, under the power button, and on the logo beneath the screen. The default lighting color is set to blue.
The M14x packs a backlit, full-size keyboard with regular-style keys. The keys' beveled sides and slightly indented tops make typing on them easy and comfortable. The keyboard incorporates a couple of gamer-friendly features: the S key has four raised dots for quick tactile recognition, and the arrow keys are positioned slightly apart from the rest of the keyboard.
A simple, medium-size trackpad with two discrete buttons sits directly below the keyboard. The trackpad is smooth and accurate, and the soft-touch mouse buttons are easy to press. The trackpad lacks fancy extras such as multitouch support, but true gamers will want to use an external mouse with this laptop in any event.
The M14x has plenty of ports: The left side of the machine has VGA-, HDMI-, and DisplayPort-out ports; a USB 2.0 port; jacks for microphone, headphone, and microphone/headphone (for a headset); and a nine-in-one card reader. On the right side of the computer are two USB 3.0 ports, an ethernet port, a Kensington lock slot, and the slot-loading DVD-RW drive.
Screen and Speakers
The M14x sports a great-looking 14-inch glossy WLED-backlit screen with a native resolution of 1600 by 900 pixels. This bright screen offers excellent contrast, depth, and color accuracy, and is perfect for gaming. Off-axis viewing angles are okay, though you do lose some contrast as you move from side to side. The glossy screen looks great in low and dark lighting, but it can throw back some pretty severe reflections in bright light (especially sunlight).
Video looks and sounds great on the M14x. HD video plays flawlessly, with little to no artifacting or noise even in intense, action-packed scenes. Audio sounds very good through the M14x's Klipsch 2.1 speaker system. The speakers, which are located above the keyboard, produce full, rich sound at an acceptably loud volume.
The Bottom Line
Don't let the Alienware M14x's benchmark specs mislead you–WorldBench 7 puts a lot of weight on small, speedy SSDs, which this laptop doesn't have. Nevertheless, the M14x outperforms any Ultrabook we've seen in screen and graphic quality.
And because the M14x is built for gamers, it has a relatively user-friendly design. Ultrabooks often skimp on quality components in an effort to achieve the lightest, thinnest, and sexiest profile it can. In comparison,the M14x is heavy and bulky, but it's also sturdy, with a keyboard and a trackpad that will stand the test of time, as well as excellent port selection. The M14x also comes at a great price for a gaming-oriented laptop, though upgrade prices are expensive: Doubling the RAM from 8GB to 16GB costs $150, and adding a Blu-ray reader costs $200.