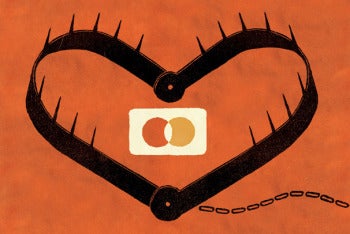 The offer was tempting: I could read exclusive online articles about my beloved Red Sox on ESPN Insider, for just $44.95 a year. And to be sure that it would be money well spent, I could sign up for a seven-day free trial. I bit, coughing up my credit card number as part of the deal.
Unfortunately, I couldn't get off the hook.
Finding Red Sox slugger David Ortiz's career RBI totals took seconds on ESPN, but trying to learn how to cancel the free ESPN Insider trial was considerably harder. I searched, clicked, and navigated to what felt like every corner of the site, to no avail. Before giving up I sent ESPN customer service a terse email message requesting that my account be canceled. The next day, the day that my free trial expired, my credit card was charged $44.95.
Later I called customer service, and a cheerful woman named Yvonne told me, "There is no way to cancel online; you have to call to cancel." Why couldn't I find that out online?
After refusing to refund me 100 percent of my $44.95, she transferred me to a supervisor who reiterated the refund policy and then explained how to find the cancellation policy on ESPN.com. I had tried to unearth a cancellation form by clicking the 'My Account' link, but instead I was supposed to go to 'Radio and More' to see the cancellation policy. Who knew?
Free trials are enticing, but as I learned, they come with strings attached. Back in April, in order to test how consumer-friendly free trials are, I signed up for and attempted to quit 40 free trials that required a credit card number. More than a quarter of the services I tried turned out to be a real hassle to quit.
Three of the sites charged me even though I canceled be­­fore the free trial ended. With two other sites, I wound up with a bill simply because I couldn't figure out how to cancel before the trial expired; I blame this problem on poor website design (in both cases representatives later showed me that it was possible to cancel online). And one site provided no way to quit the free trial—online or offline—so I simply gave up.
The news isn't all bad. Free trials from Hulu and Merriam-Webster, for instance, were a breeze to ditch. Hulu stood out because it offered to "remove all [my] personal information from Hulu." At Merriam-Webster's site, saying good-bye took three clicks and less than a minute. (For more about the positive experiences I had, see "Free Trials We Liked.")
The biggest hassles
In the chart here (click to view it full size), you can see the 12 services that proved to be the most aggravating when I attempted to quit.
These companies failed on several levels: A few charged me despite my having canceled in time. Nearly all of them made finding cancellation instructions extremely difficult, requiring me to perform extensive sleuthing. Many of them forced me to call the company to complete the cancellation, and threw up technical roadblocks such as nonworking phone numbers and broken links to cancellation pages. Among the somewhat less annoying practices I encountered were high-pressure sales pitches from some companies to make me keep the service, extensive exit interviews, and multiple marketing messages in my inbox even after we had parted ways.
On the other hand, the free trials that were best made it simple to end the trial, providing clear navigation, sparing me the aggressive customer-retention lectures and marketing pitches, and saying thanks for giving them a try.
In all fairness, the hassles I describe here are a matter of subjective opinion. Another person might find spending 10 minutes on the phone tolerable; for me it was highly irritating.
Free trials and tribulations
Days after canceling J2 Global's 30-day free trial of the TrustFax virtual fax service, I spotted an $8.95 charge from the company on my credit card statement. Perplexed, I tried calling TrustFax's toll-free number to dispute the charge. All I got was a voicemail message: "You have reached Verizon conferencing. The number you have dialed is not in use."
The next day I checked the TrustFax site and found that the customer service number had changed. I dialed the new number; within 20 seconds after navigating voice prompts, I was hearing hold music and a looped message saying, "Your call is very important to us. Please wait on the line for the next available representative." After 12 minutes, I hung up.
As a test, the next time I called TrustFax, I selected the sales option at the voice prompts, and within 10 seconds a cheerful sales representative was ready to take my order—but not to cancel my account.
My fourth call to TrustFax was fruitful, though. After I waited on hold for 11 minutes, a representative named Leslie came on the line and said that she would review my account. She confirmed that my account was closed, and apologized for the billing error. She even refunded me the $8.95—but not until after she had kept me sitting on the phone for another 17 minutes as she confirmed my billing information, put me on hold, asked me for account information, and put me on hold again. In total I spent about 40 minutes on the phone trying to stop a free trial that had taken merely a few mouse clicks and less than 2 minutes to start.
A spokesperson for TrustFax later apologized, saying that I had been billed erroneously because I had canceled on the last day of the free trial; though the billing had begun the minute my free trial was over, the company's processing of my cancellation request had taken 24 hours.
Technical difficulties
When it's quit-or-get-billed time, technical snafus are doubly frustrating. I was surprised to see how many services—such as ESPN Insider, FreeCreditScore.com, GameHouse, IMDb Pro, RealPlayer Super Pass, and Spotify Premium—suffered from technical errors on their sites that made canceling hard.
With Spotify Premium, for example, I ran into a password glitch. When I indicated that I wanted to cancel my Spotify account within the client software, the service-cancellation page loaded in my browser and asked me to resubmit my Spotify password. Because I had been forced to set up my Spotify account with my Facebook credentials, I entered my Facebook password. Spotify rejected that password several times, serving up an "Incorrect Password" message despite the fact that I had verified it was correct. At this point, I had few options other than to select the 'Forgot your password?' link.
Next, Spotify declared: "It looks like you are using your Facebook credentials to log in to Spotify. To change your Facebook password go to your settings page at Facebook.com." After I changed the password using my Google Chrome browser, Spotify still re­­fused to accept my password on its site. I couldn't unsubscribe.
Graham James, a Spotify spokes­person, later told me that I wasn't the only person hit with this bug. He said that a "medium-sized" group of people was frustrated by this problem earlier this year, and that the glitch had since been corrected. The issue, James said, was that the browser window Spotify spawned for canceling wouldn't accept Facebook passwords. The fix was to open a different browser: If you were using, say, Chrome, you could avoid the problem by opening the same Web page in Internet Explorer.
Next page: Hard to find, hard to cancel
Hard to find, hard to cancel
I had a particularly difficult time attempting to cancel a 30-day trial of SociallyKnow, an $11.95-a-month service that monitors your child's Facebook account and reports signs of bullying or risky communication. I could find no cancellation information on the website. The toll-free phone number that I dialed took me to an answering system that would accept only voicemail messages, with the promise that someone would get back to me. When I emailed the company's customer support department from a link on the homepage, I received bounce-back messages saying "address unknown." I never received a callback despite leaving nearly a half-dozen requests for the company to return my call.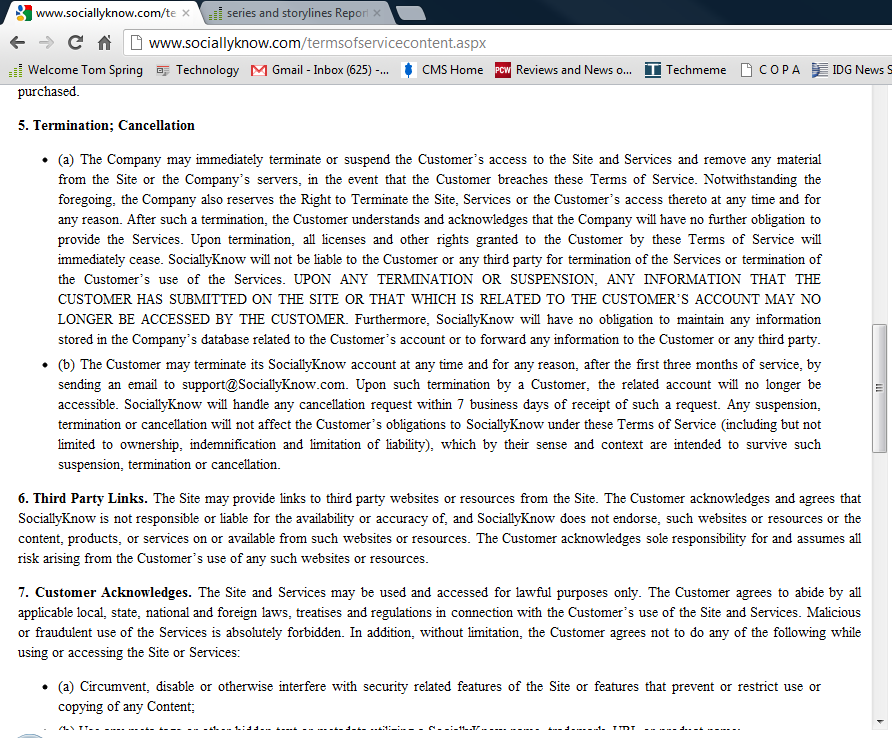 After I contacted the company's public relations firm seeking comment for this report, I got a call from SociallyKnow's cofounder, Paul Crandell, who apologized. "There are obviously some bugs to work out," Crandell told me. He blamed technical errors for the problems I had encountered with the service's voicemail and email. SociallyKnow, Crandell admitted, should make its cancellation instructions clearer. In his defense, he said that the site offers some disclosure about how to cancel the service, pointing to a sentence about halfway into the 3020-word terms of service that states: "The Customer may terminate its SociallyKnow account at any time and for any reason, after the first three months of service, by sending an email to support@SociallyKnow.com."
Susan Grant, director of consumer protection at the Consumer Federation of America, says that free-trial offers online account for a large number of consumer complaints to state and private consumer-advocacy agencies. "We find people complain less about the services themselves, and more about surprise charges and tricky terms of service," Grant notes. She says that typical complaints include mystery billing for services that consumers don't remember agreeing to pay for.
"Free trials are ubiquitous, and there are just no standards, which is problematic for consumers. It's very much a Wild West out there," Grant says. No two free trials are the same, she says, and companies may employ several tricks. "It almost seems like they are making it hard to quit on purpose."
Pitfalls of free trials
Over the course of my testing, I discovered quite a few of these tricks. In the chart here (click to view it full size), you can see the 17 free trials, of the 40 I tested, that put me through a moderate amount of hassle when I tried to quit.
If you're considering signing up for a free trial, watch for the following traps.
Free trials can cost you more in the long run: With my subscription to ESPN Insider, the terms and conditions mentioned that "the renewal rate may be higher than the introductory rate for first-time subscribers." When I checked the prices, I saw that ESPN charges $39.95 a year for ESPN Insider if you sign up without the free trial. My free-trial arrangement, in contrast, worked out to a rate of $44.95 per year.
Some free trials don't prevent you from incurring costs: My Audible 30-day free trial included two free audiobooks. But if I had listened to a third book during the trial period, I would have been charged before the end of my 30-day free trial.
Knowing when the trial starts and stops can be tricky: In some free trials, the day you start your trial is day one. For instance, if you start a seven-day free trial on a Sunday night at 10 p.m., the trial will end the following Saturday—not the following Sunday at 10 p.m. Although you might naively as­­sume that you have seven full days from the moment you start, in fact you have only seven calendar days. This issue is particularly tricky with free trials that last 72 hours, such as the ones I tested at Match.com and at the Foreclosure Radar website.
Waiting until the last day can cost you: Canceling on the last day of a free trial may result in charges. That's exactly what happened to me (by accident, according to representatives) with my free trial subscriptions to the Cook's Illustrated culinary website and to TrustFax.
Free trials may have costly conditions: With DVD-by-mail rental services such as Blockbuster and Netflix, you must send DVDs back within a certain window, or incur a charge. Blockbuster has a grace period of ten days past the end of membership; after that it charges you $20 per DVD plus shipping and handling. Netflix has a seven-day grace period, and then charges $14 for each DVD and $20 for Blu-ray discs.
The truth might be buried in the fine print: Companies providing free trials typically emphasize the benefits of the trial while downplaying the actual terms of the offer. The SociallyKnow free trial, for example, converts into paid monthly service with a three-month minimum membership requirement. So if you inadvertently allow your free trial to become a paid subscription, you're on the hook for three months of service.
Some services use scare tactics: Free trials of identity-theft protection services sometimes play fast and loose with the facts regarding the real threat of ID theft, the Consumer Federation of America found. "Some use data exaggerating the prevalence and risk of ID theft," the CFA's Susan Grant says.
When I called to cancel an ID-theft protection service from LifeLock, Rebecca, a customer service representative for the company, tried to retain me as a customer by citing U.S. statistics on identity theft. Eleven million people last year had their identity stolen, she told me. "That number has already been superseded this year," she said. When I asked her where the statistics she had cited came from, the LifeLock rep claimed that the source was the U.S. Federal Trade Commission.
However, I checked with the FTC, and a spokesperson said that those numbers were incorrect and that the agency didn't keep official numbers on ID theft. According to the U.S. Bureau of Statistics, 8.6 million households in 2010 (the most recent figures available) reported an attempted or actual incident of ID theft where a person's identity was used to open a bank or credit account. No preliminary figures for 2012 were available.
When I asked Tami Nealy, a LifeLock spokesperson, about the issue, she told me that the 11 million figure for ID thefts in 2011 should have been credited to a report by Javelin Strategy and Research, funded in part by Intersections, an ID-theft prevention firm. Nealy said that ID theft in 2012, as compared with 2011, is on the rise according to a number of different studies. But she also acknowledged that the representative had incorrectly described the data to me as having come from the FTC. "We apologize for any confusion her inadvertent cite error may have caused," Nealy said.
Economics of free trials
The business model behind free trials is simple: Give people a taste of your service, keep your fingers crossed that they like it, and hope that they stay. Requiring a credit card at sign-up makes it easier for companies to convert tire kickers into paying customers. Companies that I spoke with claimed that the requirement was a convenience. GoToMyPC representatives, for instance, say that the requirement allows the company to continue service without interruption when the free trial ends. Internet Movie Database's reps justify it differently, saying that "a credit card allows us to verify a user's identity and avoid multiple sign-ups for free trial memberships."
Who are these companies kidding? The credit card requirement serves only the companies offering the free trial. Having to put down a credit card to participate in a free trial is like lending your friend money for a trip to Las Vegas: Sure, he'll pay you back, but when? It's a risk.
When a company requires a credit card as part of a free trial, 40 to 45 percent of those accounts become paying customers, says John Greathouse, a dot-com entrepreneur who was also one of the original online marketers for GoToMyPC. "Non–credit card trials generally convert in the low single-digit range—typically 2 to 4 percent," Greathouse says.
Another painfully clear truth: The easier companies make it for people to sign up, the more customers they get. Such companies may also suppose that the harder they make it for trial users to unsubscribe, the more customers they'll keep.
That's flawed logic, in my opinion. The more hassles a company gives me, the less likely I am to do business with them. And the companies that make it easiest to unsubscribe are ones that I would consider patronizing again.
Next page: Free trials we liked
Free trials we liked
Canceling my 14-day free-trial membership to Merriam-Webster's Unabridged Dictionary online took only three clicks, allowing me to avoid the $30 annual fee that the service would have charged to my credit card had the trial period expired. My experience in canceling Merriam-Webster's free trial was excellent, and stood in sharp contrast to the dozen sites that made cancellation feel like a hunt for a piece of cheese in a maze.
Despite the hair pulling that free trials put me through, several services—including AdaptedMind, Ancestry.com, Britannica Online, Dr. Laura, Hulu Plus, Merriam-Webster, SugarSync, and The Weather Channel—proved that it is possible to make parting ways a breeze. (Click the chart above to view it full size.)
What did those sites have in common? Intuitive navigation, clear instructions, and no gotchas after you click the Cancel button. Once I cut ties, these services didn't send me a barrage of commercial email and "we want you back" pleas.
Hulu Plus goes a step further and offers anyone canceling its service the option to scrub their user data, including credit card information, from its servers.
Making it easy is a choice, not an accident
Many of the services I tested forced me to scour their FAQs for cancellation instructions. Some of the ones I spoke with defended this practice, while others simply played dumb.
Ancestry.com did a great job of steering me to its cancel option in two clicks. All I had to do was visit My Account from the homepage, and on the next screen under the Subscription Options heading was 'Cancel Subscription'.
Some sites blamed me when I couldn't find a cancel option. ESPN Insider's customer service rep told me that I should have known where the cancel option was on the site: "It's up to you to read the terms and conditions of something you are purchasing," he said. Later I saw that he was right: The company's "Terms and Conditions" document states that users need to call to cancel. Even so, though I may be guilty of not having read every terms-of-service agreement at websites, I'm not guilty of failing to try hard to cancel the services after the fact.
Companies such as the SugarSync online backup service sent an email reminder several days before the end of the free trial reminding me that I would be billed if I didn't cancel. Sadly, nice touches like this were the exception, not the rule, in my tests.
I'm guessing that most services spend a considerable amount of time and money making it easy for visitors to navigate through the site and sign up for services if they choose to—and that it's probably not by accident that sites also make it hard to cancel their services. But to those sites that make canceling free trials as simple as it is to sign up for them, my compliments.
How to keep free trials free
Who knew that free trials could cost so much? Every day, millions of people get sucked into handing over their credit card numbers for a free trial. After all, signing up for a free trial is simple and quick. Getting out of a free trial is another story, though. Here are some tips for ensuring that your free trials stay free.
When you see words such as "free trial" on a website, alarm bells should ring in your head—no matter how credible the site. Take a deep breath before clicking to commit to any such deal, and be sure to read all of the terms and conditions carefully.
If the description of the free trial is confusing or vague, the company may be trying to hide something. Skip it!
Can't find the Cancel button? Head to the site's FAQ section or to the service's terms of service, and look for the keyword "cancel" by using your browser's search function.
Be your own detective. Before signing up for a free trial, try googling the name of the free trial and "can't cancel". Chances are, a bad actor will have an online reputation.
If you are charged, call the company offering the free trial as soon as possible. Many services I spoke with said that they would give users their money back if it was an honest mistake. Others, such as ESPN, said that they would prorate the refund based on how many days of the paid service had passed.
If you're billed for a service that you mistakenly forgot to cancel on time, or that you couldn't cancel after your best efforts, call your credit card company and file a formal claim. Emphasize that you've tried to get your money back from the billing company with no success.
Don't shop online with your bank debit card. Credit card companies such as American Express, MasterCard, and Visa are protected under the federal Fair Credit Billing Act. When you dispute a charge on your credit card, you can ask that the credit card company withhold payment while it investigates. You don't have the same protection with a debit card purchase.