At a Glance
Expert's Rating
Pros
Easy-to-use, one-click VPN service
Virtually no configuration required
Cons
Limited to one location
Free version's speed throttled to 300 kbps
Our Verdict
Through the ProXPN virtual private network, you can maintain your privacy and identity.
Your privacy, safety, and anonymity on the Internet are increasingly under threat. Governments want more power to monitor people's Web usage, and businesses want to keep records of every website you visit and every item you purchase online. And let's not forget the shady-looking individual sitting in the corner of the coffee shop, monitoring your wireless signal in an attempt to steal your online banking details and passwords.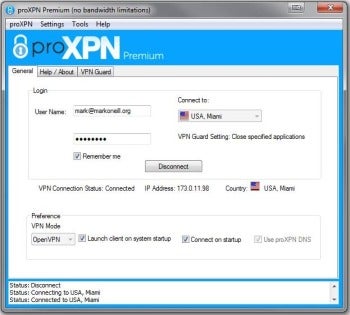 Fortunately, you don't have to disconnect your computer and hide under the blankets. Using a VPN (virtual private network), you can encrypt your signal and hide your location to stop bad guys from snooping and to keep your private information safe. One good VPN that helps you do both is ProXPN, which offers free and paid plans.
Like all free plans, a ProXPN Basic account comes with significant restrictions. Before I get into that, though, I want to point out that this is perhaps one of the easiest VPNs (if not the easiest) I have ever encountered when it comes to setup. You simply install the application, create your account, and log in. That's it—no awkward fiddling around in configuration panels, no indispensable-yet-indecipherable user manual. The tool is an absolute pleasure to use. Previously I reviewed TunnelBear, and at the time I thought that utility was the simplest to set up, but ProXPN is a new contender.
The problem with the ProXPN free service lies in those restrictions. If you go for the freebie, your speed is throttled to 300 kilobits per second, and you are restricted to only one geographical location (Miami). You also miss out on some really great paid-only features, such as iOS and Android access, port selection, and geographical location alternatives such as Amsterdam, London, and Singapore. One particularly neat feature of the paid account is VPN Guard, which allows you to specify which applications on your computer should immediately shut down if you lose the ProXPN connection. For instance, if you're downloading torrents, you can have ProXPN shut down your torrent client when the ProXPN VPN signal disappears along with your anonymity.
The pricing structure of the paid plan is $10 a month, $50 for six months, and $75 for one year. It's rather expensive compared with TunnelBear, which costs only $5 per month and $50 per year.
If you're looking for some peace of mind, along with privacy and security, this small and lightweight VPN client will do the trick. You can browse anonymously, making it appear as if you are on a completely different continent. And eventually you'll forget that ProXPN is even on your computer.
Note: Click the Download Now button to download the Windows version of the installer. For the Mac OS X version, visit the ProXPN website.
—Mark O'Neill