At a Glance
Expert's Rating
Pros
Live local TV on the go
You can uninstall most of the preloaded software
Cons
Last year's specs
Really high price
Our Verdict
Even with the ability to play live TV, the Lightray's year-old specs make justifying its high price tag difficult.
If you've ever had the hankering to watch live TV on your smartphone, the Samsung Galaxy S Lightray 4G (boy, what a mouthful) may be of interest to you. The Lightray, a $459 (as of August 21, 2012) LTE-compatible phone on MetroPCS's prepaid network, looks a lot like the Samsung Droid Charge, which we saw on Verizon just over a year ago. The resemblance isn't purely cosmetic, however, as the Lightray also boasts similar internal specs to its older Verizon cousin. In a time when you can buy a dual-core phone for less than $300, it's hard to justify paying close to half a grand for what amounts to a year-old phone.
Design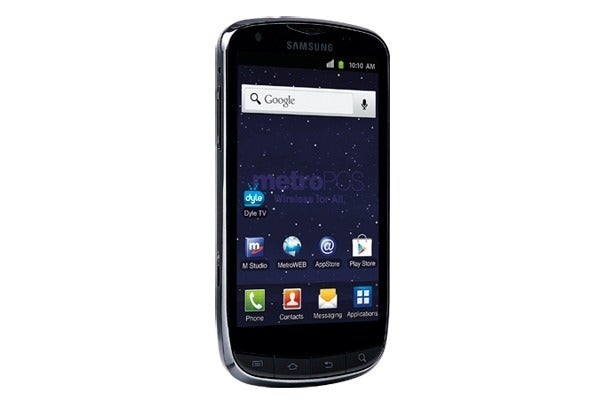 Aside from a few minor differences in design—the Droid Charge has a slightly more pointed base, while the Lightray has a small, 7-inch retractable TV antenna—the Lightray and the Droid Charge are pretty much the same phone. The front face of the Lightray consists primarily of a 4.3-inch 800-by-400-pixel Super AMOLED display, a 1.3-megapixel front-facing camera, and physical versions of the standard Android navigation buttons (Menu, Home, Back, Search) that we see on pretty much every Android phone.
The left spine of the Lightray is where you'll find the volume rocker and the Micro-USB charging port, while the power button and MicroHDMI slot reside on the right spine. On the back of the phone is an 8-megapixel camera with an LED flash, but I'll talk more about that later. The back cover comes off to reveal a 1600mAh battery, and you have easy access to the SIM and MicroSD card slots.
Even though it's made of plastic for the most part, the Lightray feels well built. The phone is comfortable to hold, and fits easily in most pants pockets. In my tests, all of the phone's buttons had just the right amount of clickiness, save for the power button, which felt a tad too spongy.
Performance and Specs
With a 1GHz single-core processor plus 1GB of RAM, the Lightray is slightly outdated. Although the single-core processor provides relatively lag-free performance, we are rapidly approaching an era in which multicore phones are the norm. Developers will write more and more apps to use this extra processing power, and soon you will be limited in the kinds of apps you can run on a single-core phone. It's something to consider if you're hoping to keep this phone for two years or longer.
Even with its aging specs, the Lightray runs games such as Angry Birds and Temple Run without much trouble. In my tests, however, after about 10 minutes of playing a game, the phone began to feel hot and the battery had dropped by about 10 percent. If you plan to run a lot of apps on the Lightray, you may want to consider keeping a charger handy so that you don't get stuck without juice. We'll update this page once we've run the Lightray through our series of official PCWorld battery tests, but for now I'd estimate that you can get around 4 to 5 hours of use from a single charge.
The Lightray can connect to MetroPCS's LTE network, which theoretically allows it to reach download speeds faster than what you get on 3G. I say "theoretically" because in my time with the phone, I never managed to reach download speeds faster than 1 megabit per second in our San Francisco office. Using the FCC approved Ookla Speed Test app, I saw download speeds of about 0.77 mbps and upload speeds of about 1.03 mbps.
While the Lightray's data speeds were disappointing, its call quality was even and clear, with no discernible static. Note, though, that this was in an area with excellent reception, and that call quality will vary depending on where you live.
Software
The Lightray runs Android 2.3 (Gingerbread), along with a version of Samsung's TouchWiz overlay. I've always found TouchWiz to be overly cartoonish, but it does bring a few useful features not found in stock Android. One of my favorite TouchWiz features is the ability to turn a device's Wi-Fi, Bluetooth, GPS, sound, or network connection on or off quickly, all from the notification bar.
Unfortunately, not all of the preloaded software on the Lightray is that useful. The MyExtras app, for example, sends ads to your notification bar and will periodically dim the screen to display a small advertisement. It's incredibly annoying, though fortunately the app can be uninstalled. Several other "apps" are nothing more than bookmarks that take you to specific Web pages, though you can also uninstall them.
Entertainment
The Lightray is the first phone in the United States to use Dyle Mobile TV to allow you to watch live local broadcast television. By pulling out the aforementioned TV antenna and launching the preloaded Dyle app, you can browse local channels and see what's playing.
When I tried the service here in San Francisco, I was surprised to see how well it worked. Even in areas where I had little cell reception, the picture quality on the shows I watched was comparable to what a traditional TV antenna would offer. Occasionally the image would freeze or become extremely pixelated, but for the most part it was an enjoyable experience to watch bad daytime TV during my lunch break. The one drawback is that Dyle doesn't work everywhere, so you'll want to consult the company's website to see if it's available in your area.
If you'd rather have your own media instead, the Lightray comes with a 16GB MicroSD card that you can use to store your music, videos, and photos.
Camera
The 8-megapixel camera on the Lightray works best when taking photos in well-lit environments, and it should suffice for your everyday needs. Photos that I took in darker spaces came out significantly grainy, so this probably isn't the right phone if you frequently take pictures while you're at a bar or any other dimly lit social hangout. The front-facing camera works well for video calls, but you probably won't want to use it to take pictures because of its poor quality.
The Lightray can record video in 720p, but the quality isn't anything to write home about. You'll still notice the occasional jelly effect when you move the phone around while recording, though in my tests the phone's microphone seemed well suited for picking up voices. It'll do for a Facebook or YouTube video, but you probably won't want to use it to film your feature-length opus.
Bottom Line
The Samsung Galaxy S Lightray 4G is essentially the Droid Charge with just one or two new features and a much higher price tag. The phone's ability to play live TV is nice, but I'm having a hard time recommending the Lightray when you can get the unlocked Samsung Galaxy Nexus for considerably less. If you're set on buying a smartphone on MetroPCS, look into the LG Connect 4G: Although it does come with a bit of bloatware, at least it has LTE and more-modern specs.