At a Glance
Expert's Rating
Pros
Good keyboard and choice of pointing options
Integrated 3G cellular broadband
Cons
Limited port selection
LCD panel seems dim and a little washed out
Our Verdict
Lenovo's X1 Carbon offers an understated look and exotic chassis material, but the LCD panel display quality could be better.
Best Prices Today: Thinkpad X1 Carbon
Lenovo is justifiably proud of its ThinkPad X1 Carbon ultraportable laptop. The machine is incredibly thin—just 0.7 inch at its thickest point—and the chassis is built with carbon fiber, resulting in an Ultrabook that ships with a 1600-by-900-pixel LCD display and weights slightly less 3 pounds.
In Search of Slim
In its zealous pursuit of ultrathinness, however, Lenovo did make a few compromises. Like the Asus Zenbook Prime UX31A and the Vizio C14-A2, the X1 Carbon has no built-in ethernet port, though Lenovo does include a USB-to-ethernet dongle. The X1 Carbon's LCD panel flexes enough to make me a little nervous, though a little flex won't hurt the display—and in fact may improve the laptop's resilience when dropped.
Port Minimus
There are other, stranger shortcomings. For example, Lenovo supplies a USB 3.0 connector on the right side of the X1 Carbon, but a USB 2.0 port—instead of another USB 3.0 port—on the left. At least the USB 2.0 port delivers enough current to charge a smartphone or other mobile device. The only video output is a mini-DisplayPort connector, and the lone audio jack is a combination input/output jack.
The Lenovo lacks a dedicated wired ethernet port, instead offering integrated 3G (not 4G) cellular broadband. According to Lenovo, the chipsets needed for PC 4G support would have taken up too much system board space and consumed too much power. You can use the integrated 3G as a mobile hotspot, if you need that capability.
Performance
The ThinkPad X1 Carbon test model we tested includes an Intel Core i7-3667U CPU, with a default clock frequency of 2.0GHz and a maximum Turbo frequency of 3.2GHz. Like most Ultrabooks, this one uses Intel's HD 4000 integrated GPU and ships with 4GB of DDR3-1333 memory. A 256GB SanDisk solid-state drive handles storage chores.
In our performance testing overall, the X1 Carbon essentially tied with Vizio's C14-A2, despite having a faster CPU than the Vizio's Core i7 3517u. The Vizio outpaced the X1 Carbon in PCWorld's WorldBench 7 benchmark test suite, earning a mark of 158 as against the ThinkPad's score of 144.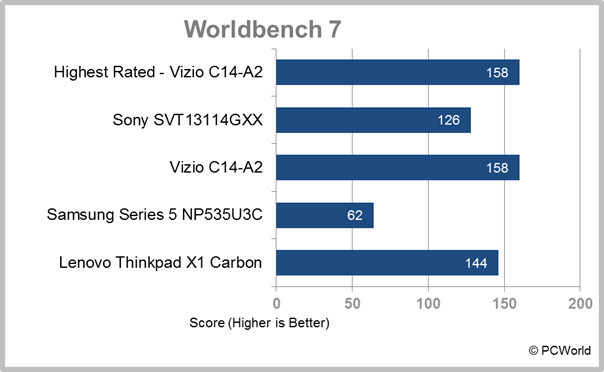 On the power side, the X1 Carbon uses Lenovo's RapidCharge system, which allows the system to charge to 80 percent in just over 35 minutes. The system's measured battery life was a solid 6 hours, 11 minutes, almost an hour longer than the Vizio C14-A2's 5 hours, 17 minutes.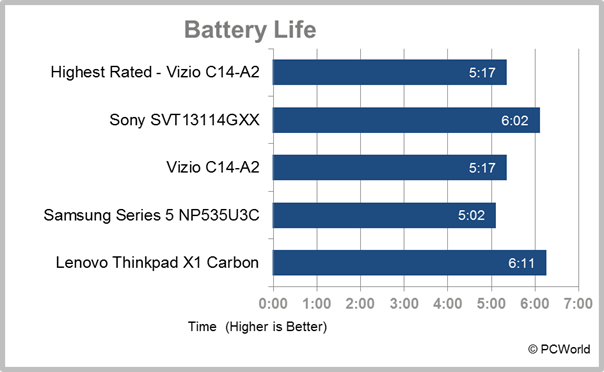 Not surprisingly, in view of the laptop's Intel HD 4000 GPU, the X1 Carbon's game performance was fairly weak. Even with detail settings at low, the Lenovo struggled to an unplayable 11.4 frames per second in Crysis 2, although its frame rate on the Dirt3 test was a more playable 36 fps.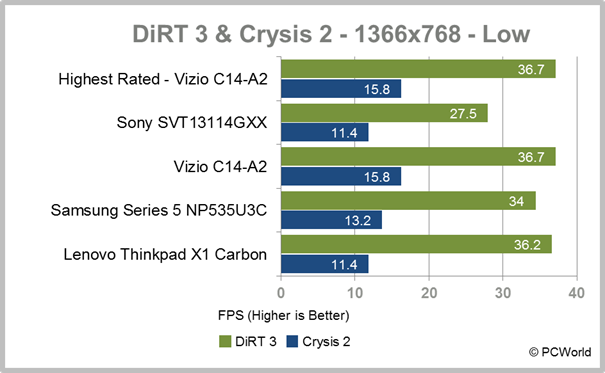 Overall, Lenovo seems to have emphasized battery life over raw performance, a perfectly reasonable preference in designing an ultramobile PC.
Display and Audio
As usual with ultraportable laptops, audio quality in the ThinkPad X1 Carbon is limited. Lenovo did include Dolby Home Theater V4, which enhances the audio somewhat. Overall audio in music was neutral, but I could hear noticeable distortion in the speakers when volume levels were cranked too high. Though the X1 Carbon can't pump out sound at very loud volume, its speakers were definitely good enough for near-field use during travel.
The laptop's 14-inch LCD panel offers an excellent resolution of 1600 by 900 pixels. Text looked crisp, but colors tended to be muted and brightness levels were on the low side. On the other hand, the matte-finish screen picked up almost no glare from background lighting, which your eyes will surely appreciate.
Video playback quality tended to be somewhat disappointing, due in part to the relatively unsaturated colors and in part to the screen's limited viewing angles. Straight on, both high-definition and standard-definition content looked smooth, with little visible jerkiness or frame stuttering.
Usability
Lenovo includes both a TrackPoint stick-based pointing device and a large glass multitouch-enabled touchpad. The latter was a little too sensitive out of the box, but it does have good palm rejection, making for generally good cursor control.
The keyboard layout is good. The keys themselves are slightly indented and offer good tactile feedback, though keystroke travel is short. Lenovo also includes discrete page down and page up keys, a welcome addition to the usual Fn-key options.
Bottom Line
Lenovo put some serious thought into mobile usability with the ThinkPad X1 Carbon, including cellular broadband and the RapidCharge feature. The slightly flexible carbon-fiber chassis is an interesting departure from the rigidity of machined metal cases. Though Lnovo's failure to offer dual USB 3.0 ports and HDMI output is a little disappointing, the port selection isn't radically different from what similar superthin Ultrabooks provide. If you're a serious traveler, the X1 Carbon merits closer inspection.
Best Prices Today: Thinkpad X1 Carbon