At a Glance
Expert's Rating
Pros
Automatic duplexing
Dramatic photo output
Our Verdict
Excellent output makes up for this color inkjet multifunction's deficiencies, but its color ink is expensive.
Best Prices Today: V525w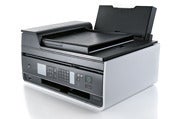 One look at the output of the $130 (as of August 21, 2012) Dell V525W color inkjet multifunction, and you'll willingly forgive some of its rough edges. Photos appear extremely vivid, and text looks sharp and black. This MFP also has an automatic duplexer to ease two-sided printing chores. Less forgivable is the need to buy the extra-high-yield supplies to keep ink costs even close to reasonable.
Overall, the V525W is a solid product, but its firmware and controls are slightly backward. For starters, since the operating panel overrides all other functions, our innocent attempt to browse a submenu prevented the unit from responding to the software setup or incoming jobs. Once we returned to the main menu, the setup process—as well as the print, copy, and scan jobs—commenced. Another example: In the printer driver, the 'Automatic' setting in the paper type drop-down menu doesn't mean what we thought (namely, that the printer could sense the paper type loaded and adjust print quality automatically). Instead, you must set the printer for the type of paper being used, and the tray will "automatically" follow your lead. The unit also offers no manual setup for the Wi-Fi; you must use WPS (Wi-Fi Protected Setup) or configure it while the MFP is attached via USB.
The rear vertical input tray on the V525W holds 150 sheets, and the output tray at the front holds 25 sheets. The automatic document feeder for the A4/letter-size scanner holds about 35 sheets. Although the unit can scan a single-sided document and make a two-sided copy, it cannot do the same for a two-sided document.
On the control panel, which tilts up from the front of the unit, you'll find a 2.4-inch color display that is generally easy to use. That said, the keypad buttons are a bit small, and you must select color or monochrome mode before copying. Dedicated buttons for color and monochrome jobs are more efficient and cause fewer mistakes.
In our tests, the V525W was decently fast on the PC, printing monochrome pages at 7.2 pages per minute. Printing the same documents on the Mac platform was significantly slower, operating at a rate of just 3.8 ppm. That's the widest gap we've seen in a while. Snapshot-size (4-by-6-inch) photos printed to plain paper at 2 ppm; printing to glossy paper was only slightly slower at 1.6 ppm. Printing a full-page photo took a little over 2 minutes, and copies exited at 2 ppm.
The output from the V525W is top-notch. Text and monochrome graphics appear black and sharp, though we noticed some defects in one solid-gray area on our formatted "newsletter" text sample. Photos look sharp and vivid, though just a tad oversaturated. All in all, the quality of the output is this MFP's major selling point.
If you purchase the standard-size (series 31) or high-yield (series 32) ink supplies for the V525W, the per-page color costs are exorbitant. The standard-size series 31 cartridges (a set of which ships with the printer) last for 200 pages apiece and cost $10 for the black and $15 per color. That works out to 5.0 cents per page for black, an average cost, but 7.5 cents per page per color, which is more than twice our current average. A four-color page would cost 27.5 cents—way above average. You get no relief with the high-yield series 32 color cartridges (no black): All priced at $25, they each last for 430 pages, or about 5.8 cents per page per color, which is still quite steep. One possible consolation: Our math has shown that if you don't print much, the cost of the ink doesn't matter as much.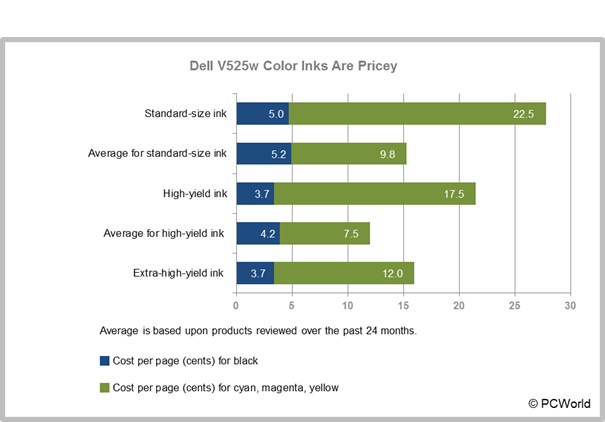 The only reasonably priced inks are the extra-high-yield series 33 cartridges, which, at $28, are slightly more expensive than the series 32 tanks. The black cartridge lasts for 750 pages, which works out to a very reasonable 3.7 cents per page, while the colors last 700 pages each, translating to 4.0 cents per page. A four-color page would cost a very reasonable 15.7 cents. Regrettably, a full set of extra-high-yield inks for this $130 printer would cost $112—a tough psychological and budgetary hurdle.
The Dell V525W offers a lot to like, including good paper handling, nice print quality, and decent speed. However, the color-ink prices are a deal-killer unless you print enough to justify investing in the extra-high-yield inks. Other MFPs in this price range with similar features and cheaper ink include the Canon Pixma MX512 and Brother MFC-J825DW.
Best Prices Today: V525w