Microsoft's Kinect for Xbox 360 is now $40 cheaper, and a new bundle of accessories is on the way as Microsoft tries to be the center of your living room.
A standalone Kinect motion controller with Kinect Sports now costs $110, down from its original price of $150. Microsoft's Kinect and Xbox 360 bundles still cost $300 for the 4GB model and $400 for the 250GB model.

In addition to the Kinect price cut, Microsoft announced an "Xbox 360 Essentials Pack," coming in October. The Essentials Pack includes a wireless Xbox 360 controller, a Media Remote, an HDMI cable and a three-month Xbox Live Gold subscription. Individually, those items would cost about $135, but the bundle only costs $80. (Note that if you want to keep Xbox Live Gold, you're better off switching to the annual rate of $60, compared to $25 in three-month increments.)
The timing is crucial as Microsoft is trying to push the Xbox 360 as an all-purpose entertainment device. Throughout the last year, Microsoft has added new music and video apps to the Xbox 360, including YouTube, Amazon Instant Video, HBO Go, and iHeartRadio. The console can also stream cable content from Comcast and Time Warner for subscribers. Most of these apps can be controlled with voice or gestures through Kinect, though a media remote will come in handy as well.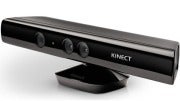 This fall, a software update for the Xbox 360 will add a version of Internet Explorer, new search capabilities and the ability to pin favorite apps to the dashboard. An app for tablets, called SmartGlass, will allow them to serve as a companion screen and remote control for the Xbox 360. Microsoft is accepting beta testers for the new dashboard now.
Unfortunately, there hasn't been much chatter about a price cut for the Xbox 360 itself. Microsoft is testing a $99 Xbox 360 deal, subsidized by two years of Xbox Live Gold service, but it's only available in Microsoft Stores. It's also more expensive in the long run than paying full price for the hardware and subscribing to Xbox Live separately.
Follow Jared on Twitter, Facebook or Google+ for even more tech news and commentary.