LG has started mass-producing a new type of thinner display for use in the next-generation iPhone, according to reports. Apple patented the technology and would be the first to use new in-cell technology for its iPhone, giving it an edge over competing smartphones.
LG is one of three display makers supplying screens for Apple devices, alongside Sharp and Japan Display. The screens are thinner thanks to the use of so-called in-cell panels, allowing for a slimmer design for the new iPhone, widely expected to be announced Sept. 12. Sharp also said that its share of displays is on the way.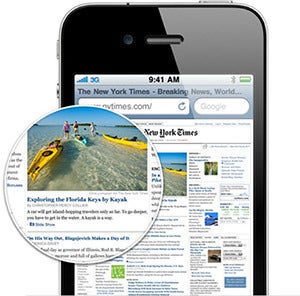 In-cell technology panels use touch sensors inside the color filters of the screen. Current iPhone models use on-cell technology, which places the touch sensors on top of the color filters. Without an extra layer for the touch sensors, the in-cell system allows for slimmer screens (and devices), some 0.5mm at least.
"We just began mass production and we don't expect any disruption in supplies," Han Sang-beom, chief executive of LG Display, a panel supplier for Apple, told Reuters. LG initially had some difficulties in manufacturing the new type of display, the company's CEO also told Bloomberg: "We had some hard times at first… but it seems those hard times have finally ended. There were a lot of trials and errors as we tried a technology that hadn't been used."
The screen of the next-generation iPhone will not only be thinner, but also larger than on previous models, recent unconfirmed reports suggest. Tipsters pegged the size of the new iPhone display at 4 inches (30 percent bigger than current iPhone). This would make the phone slightly taller to accommodate the screen with a 1,136 by 640 pixel resolution, some extra 176 pixels horizontally from the previous 960 by 640 pixel resolution.
Follow Daniel Ionescu and Today @ PCWorld on Twitter