Amazon has scheduled a press conference for September 6, suggesting that new Kindle e-readers and tablets are nearly here.
The event is set for 10:30 a.m. Pacific time in Santa Monica, Calif., but no other information was given. PCWorld will be there to cover the news.
New Kindle tablets will likely be a major focus at the event. According to several reports, Amazon plans to launch a larger Kindle Fire to compete more directly with Apple's iPad. Boy Genius Report has claimed that the tablet will have a quad-core processor, front-facing camera and micro USB port.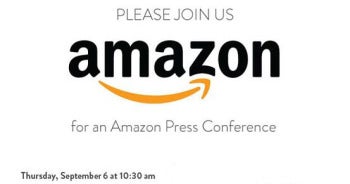 Amazon may also boost the specs on its 7-inch Kindle Fire tablet, while dropping the price of the original to $150. Both the new 7-inch and 10-inch tablets will reportedly have an improved design over the original Kindle Fire, with metal casing instead of soft-touch plastic.
Amazon's original Kindle Fire made waves mainly because of its $200 price tag. But now, the Fire faces competition from Google's Nexus 7–a better tablet, according to most reviews–and may have to compete with a smaller iPad as well.
On the e-reader front, rumors of a front-lit Kindle have been kicking around for months, so we may finally see its debut at the press conference. Rival Barnes & Noble already sells a Nook e-reader with built-in lighting.
Follow Jared on Twitter, Facebook or Google+ for even more tech news and commentary.