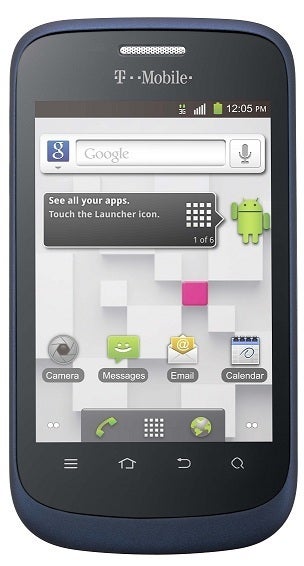 Lengthy service contracts—and the high costs that come with them—can keep some people from making the jump to smartphones. With its latest release, T-Mobile is looking to remove that obstacle from upgrading your mobile device.
The company announced the ZTE Concord, a contract-free Android smartphone that costs only $100, despite a lack of carrier subsidies that typically bring down the cost of phones which offer mobile features like web browsing, social networking, and Google Maps. The Concord's price tag makes it competitive with feature phones that don't include those more advanced capabilities but also don't tie you to a carrier for two years.
There are trade-off, though, for this $100 contract-free smartphone. To start, the Concord is running Google's outdated Android 2.3 Gingerbread operating system. It has a subpar 2.0 megapixel camera, with no front-facing camera for video calls. There's no mention of the power of the CPU so one would assume it's probably nothing to write home—or at least not something that T-Mobile's looking to tout.
Though it may not measure up to a Samsung Galaxy SIII, there's no denying the Concord is an order of magnitude better than the flip-phones it's aimed at. Low-cost contract-free smartphones like the Concord may pave the way for the inevitable extinction of the much less powerful feature phones.
Low-cost options should help expand the market for smartphones. In May, market-research firm Nielsen said that smartphone use passed the 50-percent mark in the U.S., with one in two U.S. mobile subscribers now using a smartphone.
The Concord is available now at T-Mobile stores and Walmart for $99.98, and works on T-Mobile's network as well as Walmart's Family Mobile service. T-Mobile's Monthly4G plans start at $50 a month for unlimited talk, text, and web, while Walmart's start at $45 for the same services.
Galaxy S III Pebble Blue Smartphone
Price When Reviewed:
$654.99